2-room apartment in the most popular residential complex of Tbilisi, "Tbilisi Gardens"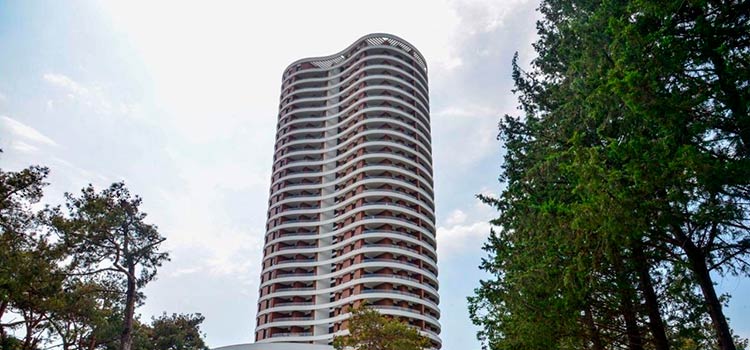 Real estate with a resident permit in Georgia is highly popular among non-residents, especially from neighbor countries. According to a statistical survey published by the State Commission on Migration Issues of Georgia, a permanent residence is most popular among Russians, Azerbaijanis, Armenians and Ukrainians, while temporary resident permit is popular among citizens of Iran, India, and Russia. One of the simplest and most common ways to obtain a resident permit is to buy real estate in Georgia at cost more than 100 000 USD. A two-room apartment in the residential complex "Tbilisi Gardens" in Tbilisi, apart from a possibility of obtaining a resident permit in Georgia, is also a beneficial investment.
Survey of real estate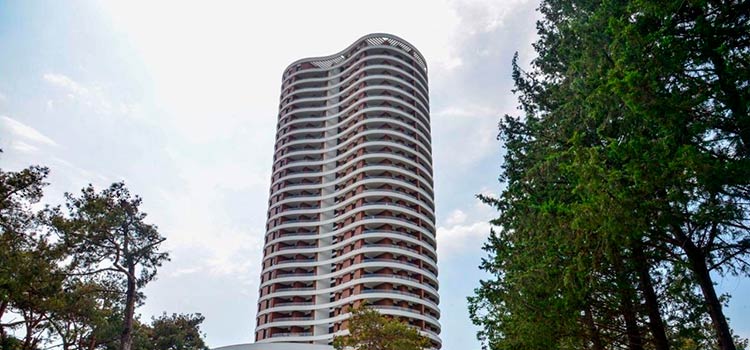 The residential complex "Tbilisi Gardens", where the apartment is located, was put into operation in the 3 quarter of 2018. This is the unique project by the developer company "Quadrum Global". Owing to its height and use of construction technologies applied during building of skyscrapers in New York, this new-built received the name "The First New York Skyscraper".
Location of the new-built
"Tbilisi Gardens" are located in the district Saburtalo, the most popular and the biggest dormitory area of Tbilisi. The district has practically no historical sites, in contrary to many cafes and restaurants, where prices are lower than in downtown.
The new-built is 8 kilometer far from the center of Tbilisi, but this will not be a problem as transport communication is arranged properly. Almost next to the residential complex "Tbilisi Gardens" there is a metro station "Delisi" and a bus stop, and getting to any part of the city by a car is easy through the Avenue Vazha-Pshavela.
Many objects of social designation surround the building, in particular the branch of Bank of Georgia, the linguistic school, buildings of Tbilisi State Medical University, electronic shops, books stores, drugstores, pizzerias, cafes and restaurants, the supermarket SPAR, the trade center "Wookie", and automobile technical-maintenance points.
500 meters far from the residential complex "Tbilisi Gardens" is the home football stadium of the team "Saburtalo"; 900 meters far – the Central Republic Hospital; 2,5 kilometers far – the park Vake; and 4 kilometers far – the Tbilisi Zoo.
On the stage of preparation to buying real estate, you might learn how a non-resident can open a personal account in the leading Georgian bank TBC Bank.
Benefits of the residential complex "Tbilisi Gardens"
The residential complex "Tbilisi Gardens" was built under the state-of-the-art technology using modern materials and architectural solutions. It is prominent against other urban builts with its unique design and safety. The complex was built under regulations accepted in New York and Miami.
The developer of the project "Tbilisi Gardens" made its best to make living here cozy, comfortable and safe:
the building has the fire-fighting system that obtained the American certificate NFPA;
the building corresponds to seismic standards – Euro code 8;
the parking lot is equipped with ventilation;
blackout is brought to a minimum due to the available emergency electric generator;
also, there is a spare tank to provide continuous water supply;
4 high-speed lifts from the company Mitsubishi (three passenger lifts, one cargo lift);
interiors were designed by one of the best US designers, Vicente Wolf;
the leading Israeli company MYS worked on the project of the building;
front doors and windows made of aluminum.
Every tiny detail here is well-thought. Therefore, the project rightly bears the slogan "IT'S ALL GOOD AT HOME":
closed safe territory with 24/7 surveillance;
large spacious lobby with a concierge;
25-meter adult and children pools operating around the year;
saunas and spa;
big green territory with the area of 21 thousand sq.m. arranged by Italian landscape designers;
underground parking for 2 cars for each apartment;
fitness gym with the area of 375 sq.m. with modern training equipment, operating 24/7;
event hall with a terrace.
Description of the apartment in the residential complex "Tbilisi Gardens"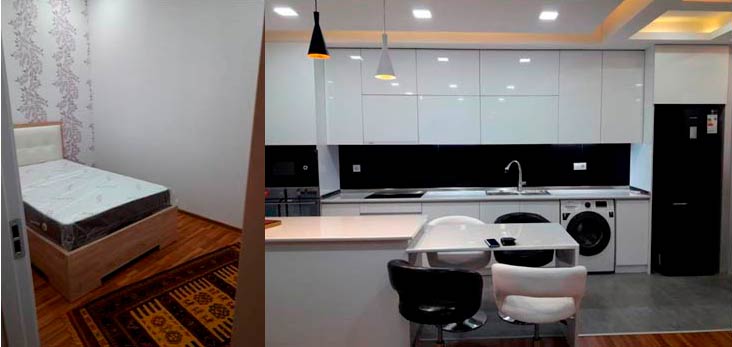 The apartment we offer for sale is on the 17 floor. Its area is 81 sq.m. including a bedroom, a living room, a big kitchen, a balcony and a bathroom. The apartment has contemporary furniture and equipment (air conditioner, TV, washing machine, stove), all the utilities (electricity, hot and cold water, Internet, heating), lighting and curtains. The apartment has world-class finishing using construction materials of the leading manufacturers.
Benefits of buying an apartment in the residential complex "Tbilisi Gardens"
High payback of investments due to continuous demand of rent on the part of students, businessmen and tourists
The most developed and visited city in Georgia (approx. 2 mln visitors per year)
Headquarters of international and Georgian companies, banks and organizations, as well as Georgian state bodies, are located here
Periodically held international conferences, exhibitions, fairs, and meetings
Free trade zone is available (Gldani region)
The highest number of kindergartens (more than 100), schools (more than 200), and higher education institutions (more than 39), including sectors with Russian language of study.
Prestige from owning an apartment in the center of capital in a European state
Apartment in Tbilisi's most popular new-built, "Tbilisi Gardens"
The residential complex has all the conditions for short-term or long-term comfortable living (pools, sauna, spa, fitness gym, 24/7 security, lobby with concierge, big green zone, playground)
Building corresponds to standards of fire safety (NFPA) and seismic resistance (Euro code 8)
Right for obtaining temporary resident permit in Georgia
District Saburtalo has a highly developed infrastructure (schools, kindergartens, supermarkets, bus stop, metro station Delisi near the building, drugstores, banks, etc.)
The apartment has a "turn-key" finishing, i.e. everything necessary for comfortable living immediately after purchase.
To provide safety of payments when buying real estate in Georgia, we recommend to open a personal account in Bank of Georgia.
A cozy 2-room apartment with a high-class finishing in the prestigious residential complex "Tbilisi Gardens" can be purchased for 424 850 lari. An extra pleasant bonus for estate owner will be the right to obtain a resident permit in Georgia.
If you plan to buy real estate in Georgia, please contact us at: info@offshore-pro.info. With our help, you can be sure of safety and protection of your investments.
Tags:
#Apartments in Tbilisi
#Real estate in Georgia
#Resident permit in Georgia
You are welcome to review other interesting articles on Georgiawealth.info: