Turnkey apartment in Axis Tamarashvili in Tbilisi + Georgia residence permit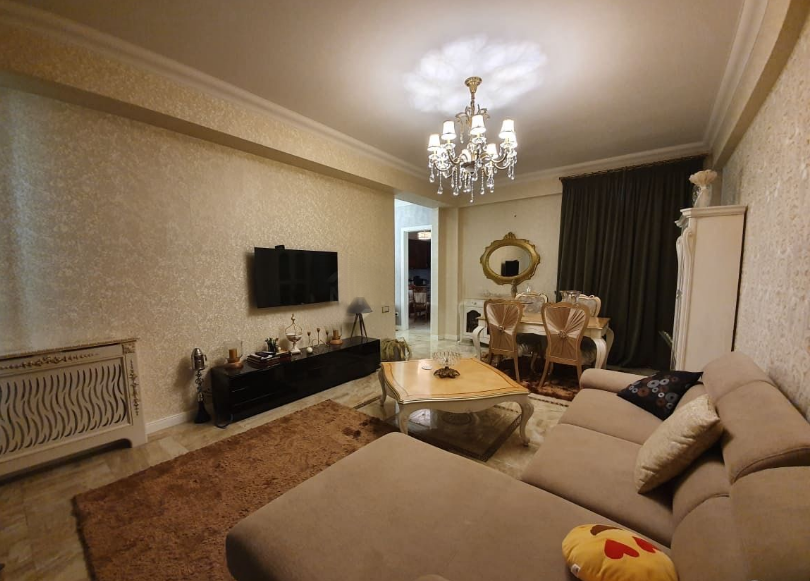 The apartment in the new Axis Tamarashvili building in Tbilisi is ideal for both your own residence and rental. The building of the complex was developed in a particularly convenient district with a developed social and transport infrastructure. Everything that you may need for your convenient living, is literally around the corner, so as to make your short-term or long-term stay especially comfortable. The apartment will be of interest to freelancers who are planning to stay in Georgia for a period of 6 months or more, as well as to businesspeople who visit the country on business.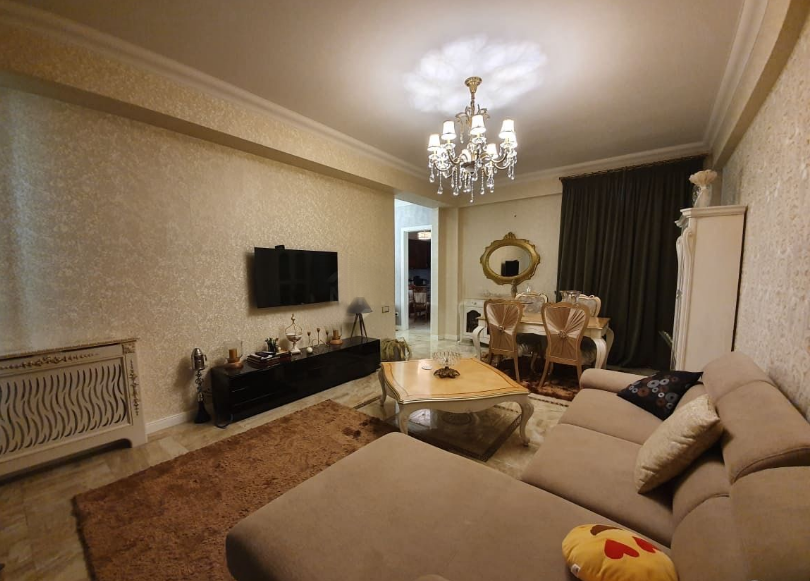 Location of Axis Tamarashvili complex in Tbilisi
As the name of the complex implies, the building is located on the Tamarashvili street. This is the Saburtalo district next to the Delisi metro station. Construction of a large number of new buildings is evolving in the area, considering the utmost convenience of this location for living.
There is a vast number of educational institutions near the building: a European private school, Sulkhan-Saba Orbeliani University, Tbilisi State Medical University, Tbilisi Physics and Mathematics School No. 199. For convenient shopping, you will also find in the neighborhood a grocery store, City Mall – a large shopping center (there is also a Goodwill hypermarket, an electronics supermarket , children's entertainment centers), hospitals, medical centers, the Tbilisi Hippodrome and many other facilities and amenities necessary to ensure your comfortable stay. For those who appreciate green parks and nice walks in the city oasis, the largest park in Tbilisi, Vake, is only 2 km from the new building.
It should be noted that the microdistrict where Axis Tamarashvili is located, is quite extensively developed in terms of infrastructure and amenities. This is particularly due to the proximity of the building to Vazha-Pshavela Avenue, which is one of the longest and busiest in Tbilisi, along which a huge number of company offices, cafes, restaurants and a wide variety of shops are located.
Attention!!! One of the best restaurants in Tbilisi – Sormoni is located right next to the Axis Tamarashvili complex (1.2 km) (near the City Mall ).
Distance to historical and cultural sights of Tbilisi:
Funiculars and Mtatsminda – 6.9 km;
Peace Bridge – 7.6 km;
Rike Park with a cable car – 8.1 km;
Abanotubani sulfur baths – 8.3 km;
Holy Trinity Cathedral – 8.4 km;
Narikala Fortress – 8.5 km;
Avenue Shota Rustaveli – 6.5 km.
Distance to key transport hubs:
Shota Rustaveli airport – 23.3 km;
the central railway station – 6.3 km;
Ortachala bus station – 10.9 km ;
Okriba bus station – 7 km .
In general, the microdistrict where Axis Tamarashvili is located is quite attractive for long-term residence, both in terms of the availability of social infrastructure and transport accessibility.
We offer you more real estate objects in Georgia for review.
Options and photos of the apartment in Axis Tamarashvili
The apartment in Axis Tamarashvili in Tbilisi is located on the middle 4th floor of a newly-constructed, 9-storey building. Its total area is 95 sq.m . There is a very large bedroom, a living room, a separate large kitchen (a rarity for Georgian apartments), a wardrobe, a bathroom, and a large balcony.
The apartment is offered with a high-quality design and interior finishing works, with all rooms conveniently equipped with furniture and household appliances. Furniture and lamps in the apartment are selected to taste and correspond to the style of the beginning of the 20th century, which creates a unique atmosphere.
The apartment is also supplied with all utility lines: water supply, gas, electricity, internet, cable TV.
The equipment and area of ​​the apartment would be perfect for accommodating a company of 3-4 people or a small family.
Advantages of buying an apartment in Tbilisi
Apartment on the Tamarashvili street is an interesting investment option – both from the point of view of buying for your own residence and for the purpose of renting, due to the following qualities:
good location – on the Booking.com portal, the building location scored 9.1, on TripAdvisor the location score is 68 out of 100 (19 restaurants and 7 entertainment within 1 km);
designer renovation and turnkey equipment – no need to waste time and resources on the purchase of furniture and repair/interior finishing works;
Eligibility to a residence permit in Georgia – the buyer of real estate receives the right to apply for a short-term residence permit, which will increase its status in the country and open access to a host of additional services;
income potential – at the moment (during coronavirus pandemic) renting an apartment in this house costs $ 40, but with the gradual recovery of tourism and international travel, the rental price will increase.
If you are planning to invest in real estate and receive an additional bonus – a residence permit in Georgia, please contact us by mail: info@offshore-pro.info and we will help you both with the choice of the right apartment/house for you as well assist with legal support throughout the transaction.
Can I buy real estate in Georgia remotely?
Yes, buying real estate in Georgia remotely, especially now (quarantine and difficulties with border crossing), is fairly popular.
How long does it take to complete a deal?
The purchase of real estate, namely, the registration of the transaction in the Public Register takes 1 business day. After that, the buyer receives an extract that confirms the ownership of the property.
When was Axis Tamarashvili commissioned in Tbilisi?
Complex Axis Tamarashvili was commissioned in Q1 of the year 2016.
Tags:
#Real estate in Georgia
#Real estate Tbilisi
You are welcome to review other interesting articles on Georgiawealth.info: