Real estate in Georgia with the right to a residence permit: a private house in Lisi Green Town in Tbilisi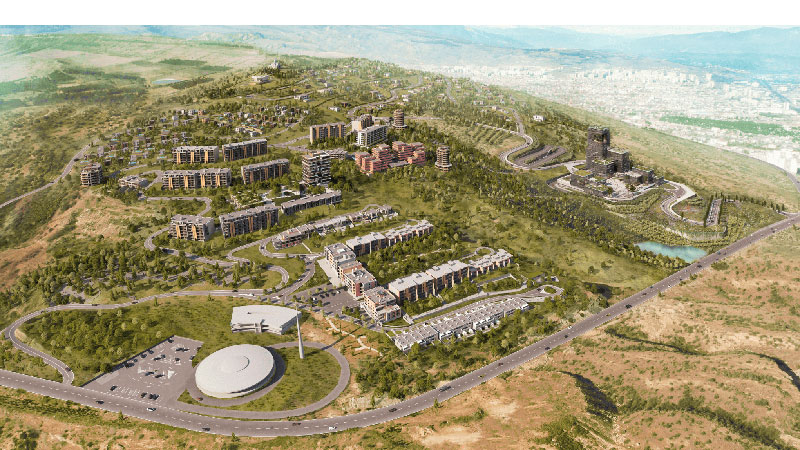 Over the past few years, real estate in Georgia has been perceived as an attractive option for investment. Needless to say, that the coronavirus pandemic has made certain adjustments to the market, by an emerging trend for a decrease in the cost of real estate. However, experts are quite optimistic in their forecasts: no later than in 2021, the real estate market in Georgia will exceed the indicators of 2019. Given global trends, buying a private house in the Lisi Green Town complex in Tbilisi can be an especially attractive option. Buying a house is also beneficial in terms of growing demand for large housing, where it is much more comfortable to spend days in quarantine.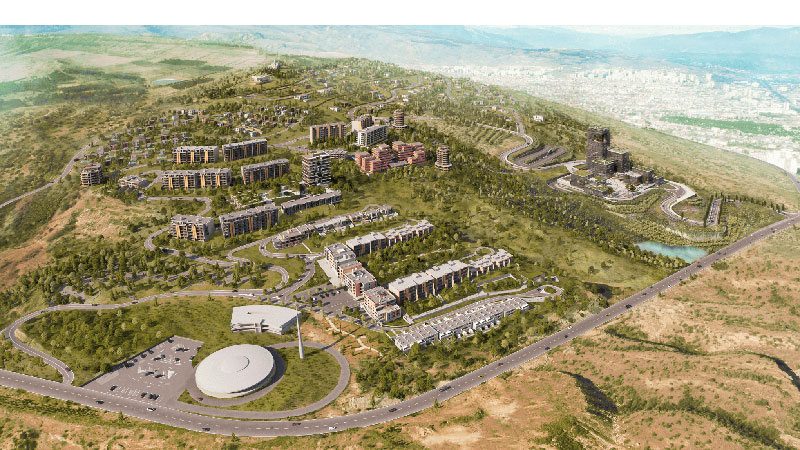 Lisi Green Town project in Tbilisi
Lisi Green Town Complex is the quintessence of comfort and convenience that a private house is ever able to provide; at the same time, it is located in an urban area of Tbilisi. It is quiet and calm here, and the windows of the houses offer a wonderful view of Lake Lisi, the park area and the capital of Georgia.
The area where the house is located is conveniently secluded from zones where industrial enterprises and noisy highways are located. Thanks to this, the ecology is very good here. The developer also planted 35,000 trees on the territory of the complex to make the area even more green.
The main objective of the Lisi Green Town project is to build comfortable and cozy homes for a family living. This project involves the construction of 48 residential buildings for 500 apartments designed in a wide variety of formats: 2-, 3-, 4- and 5-room, as well as two-level houses with an area starting from 47 and up to 400 sq. m .
All houses inside the complex are designed in a modern style, with only high-quality building materials used in their construction. Like almost all real estate properties in Georgia, spacious open balconies and panoramic windows also prevail here to add space and comfort. It should be noted that each apartment has its own terrace.
As of mid-July 2020, construction is almost complete. It is planned to fully commission the microdistrict in operation in the 1st quarter of 2021.
Learn about all the benefits of buying property in Georgia.
Lisi Green Town Awards
The Lisi Green Town project is also a laureate of the International Property Awards in the nominations:
Mixed Use Development 2016-2017;
Mixed Use Development Georgia – Lisi Green Town 2017-2018;
Best Residential Development – Lisi Green Tower 2018-2019.
Attention!!! The architectural design of the Lisi Green Town residential complex was created by well-known Georgian bureau of architects – Architects.ge.
Lisi Green Town complex location
Lisi Green Town is essentially a separate neighborhood between Saburtalo and Didube districts. It is located in an ecologically clean park area near Lake Lisi (2 km). With no extensive accumulation of social infrastructure facilities, yet it neighbors conveniently with a hospital and a Carrefour hypermarket (400 m), the Lisi hills hotel (500 m). A little further westward – within 1 km you will find an American high school, a paintball club, a Korean restaurant, a bike shop.
The complex is located a little far from Tbilisi, to the nearest urban district- 1 km, and to the city center – almost 7 km.
Near the house (300 m) there is a road along Mukhran Machavariani Street, through which you can get to anywhere in Tbilisi. The nearest metro station "Medical University" is located at a distance of 2.4 km from Lisi Green Town.
In general, the area where the complex is located can be described as quiet and calm, which is inherent in almost all microdistricts that are located almost outside the urban area. However, the presence of a developed transport infrastructure allows residents and guests of Lisi Green Town to get access to the whole variety of social infrastructure that is presented in Tbilisi.
Parameters and photos of the private house in Lisi Green Town
The property for sale is a 4-storey townhouse. Its total area is 350 sq.m. and it is located on a land area of ​​200 sq.m.. The houses comprise
4 bathrooms;
5 bedrooms with private balconies;
a garage;
a huge terrace;
a yard.
All premises of the Lisi Green Town house have been renovated with high quality modern furniture, plumbing and household appliances.
The house is very large for the residence of only one small family. It can be an ideal option for either a very large family (or several generations of the same family), or it may be possible to convert the house into a hostel or a small hotel.
Why buy a private house in Lisi Green Town?
The house from Lisi Green Town for sale is impressive in its dimensions; a positive factor, especially if you intend to use the property for rent. In addition, buying a private house has the following advantages:
in Georgia, as in the rest of the world, the demand for country houses with their own secluded land area is growing;
Lisi Green Town is located in a quiet and comfortable neighborhood with good ecology;
this is a new building, where a high-quality renovation has been made and has everything you need for living or renting out immediately after purchase;
the purchase of a private house entitles the investor to a temporary residence permit in Georgia.
If you are interested in real estate and want to get your own home in Tbilisi in a good area, write to us by mail: [email protected] and we will help you make a profitable purchase, even remotely.
How long will it take to buy a private house in Lisi Green Town?
It will take no more than 1 day to conclude a sales contract and enter information about the new owner of a private house in Lisi Green Town.
What is needed for making a purchase of a private home in Lisi Green Town?
A foreigner needs only a passport to buy a private house in Lisi Green Town. For remote purchases, you will also need to provide a notarized power of attorney to your representative.
How long will it take to get a residence permit of Georgia after purchase?
It takes 10 calendar days to obtain a temporary residence permit in Georgia (according to accelerated procedure), the standard procedure lasts 30 calendar days.
Tags:
#Georgia
#Real estate in Georgia
You are welcome to review other interesting articles on Georgiawealth.info: