Affordable apartment in the Old City of Tbilisi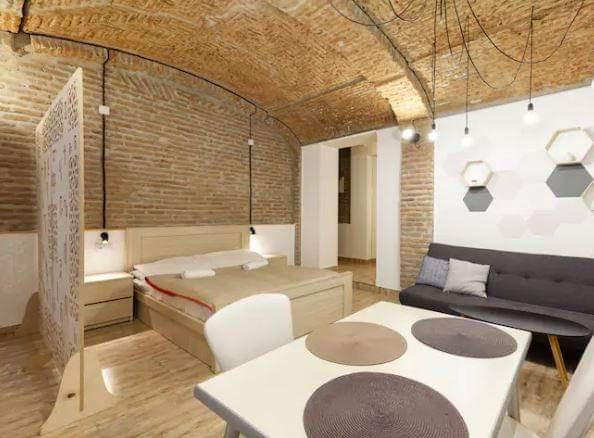 Owning an apartment in the central part of the capital of a European country, and more specifically in its old, historical district, has consistently been popular among tourists; this is especially true in case with Tbilisi. It is noteworthy that practically all historical sights are located within walking distance from the house, surrounded by numerous cozy cafes and restaurants serving exquisite Georgian and European dishes. This apartment on Lermontov street clearly has all the necessary attributes that suit the above description. And the apartments are also attractive by their price. An opportunity to buy an apartment in Tbilisi, equipped on a turnkey basis, and furthermore – located in the historic central district for only $ 50,000 – this is a lucrative investment option at least deserving due consideration.
Affordable apartment in Tbilisi: location
The apartment that we offer you to consider for purchase, is located on Lermontov Street in Tbilisi which is in the historical area of Sololaki. With nearly all the historical sights in the capital of Georgia located in this area- you will truly have an opportunity to enjoy the true atmosphere of the old city.
Sololaki is more specifically located in the southern part of Tbilisi – between Mount Mtatsminda and Sololakskim ridge. There are practically no new buildings in the area, as there is no place for deployment of new construction, and the old ones are of historical value.
Near the building where the apartment for sale is located, you will find a public school No. 50 (100 m), the Polish School of Queen Edwiga (140 m), the Chocolate Museum (150 m), the Spar store (250 m), Lado Gudiashvili Square (300 m), Square Freedom (400 m), Tbilisi Gallery shopping center (450 m), Office of the Government of Georgia (450 m), Museum of History and Ethnography (450 m), National Museum of Georgia (600 m), Carrefour hypermarket (1 km), an extensive number hostels and hotels, cafes and restaurants. Among the latter, it is necessary to draw special attention to the following:
Midamo Restaurant (900 m), which ranks 1st in the TripAdvisor rating among restaurants in Tbilisi;
Galaktioni Restaurant (110 m) which ranks the 2nd in the above rating;
Divino (950 m) which ranks the 4th;
Wine Buffet (800 m) which ranks the 5th.
Overall, practically all the best restaurants, wine houses and cafes in Tbilisi are located within a walking distance of 1 km from the builiding where the apartment for sale is.
The distance from home to top sightseeing in Tbilisi:
Temple of Kashveti – 850 m;
Tbilisi funicular – 950 m;
Rustaveli Avenue (central avenue of the city) – 1.1 km;
Narikala Fortress – 1.1 km;
Abanotubani sulfur baths – 1.2 km;
Tbilisi Botanical Garden – 2 km.
The area is very developed and of great historical value; there are always many tourists and travelers here.
Explore more items of real estate in Georgia for profitable investment
Transport infrastructure
The transport infrastructure in the area can be confidently characterized as very well-developed. Freedom Square metro station is just 500 meters away, and a public transport stop (8 routes) is right next to the building.
Distance to important transport hubs:
Shota Rustaveli international airport – 18 km;
central railway station – 5.5 km;
Ortachala bus station – 4 km;
Okriba bus station – 9.5 km.
Affortable apartments in Tbilisi: key features
The apartment for sale in the Old Town is located on the ground floor of a 3-storey building. The apartment's area is 42 sq.m comprising a small kitchen-studio, a large living room, a bathroom and a toilet.
The apartment is sold with a new high-quality renovation, has all the necessary furniture (including a double bed, chairs, table, kitchen) and household appliances (including: flat screen TV, washing machine, air conditioner). The interior design of the apartments is performed in the loft style with details of Georgian ornaments.
Considering the area and equipment of the apartments, they are ideal for renting out to a family or a company of 2 people.
Advantages of buying an apartment in the Old City of Tbilisi
The apartment under consideration will become a profitable investment, particularly due to the following characteristics:
convenient location – the historical center of the city, a favorite part of Tbilisi among city guests according to the Booking.com portal, rated 100 out of 100 by Tripadvisor (140 restaurants and 35 entertainment within 0.5 km);
"turnkey" repair and complete interior finishing/equipment
high income potential – apartments in this house on Booking.com are rented for 30 USD per day. It should be noted that when the tourist flow resumes, this price is expected to increase significantly.
If you are interested in real estate in Tbilisi in a wonderful place with high income potential, write to us by e – mail: [email protected] and we will be happy to assist you during the entire transaction process.
How long does it take to buy real estate in Georgia?
A foreigner can become an owner of real estate in Tbilisi within just 1 working day.
Does the ownership of the apartment make the owner eligible for a residence permit in Georgia?
No, these apartments with a price less than 100,000 USD do not make the owner eligible for obtaining a short-term residence permit in Georgia.
What do you need to buy an apartment in Tbilisi?
To draw up a sale and purchase agreement, the buyer will need to provide a high-quality scanned copy of foreign passport.
Tags:
#Property
#Tbilisi
You are welcome to review other interesting articles on Georgiawealth.info: