Highly profitable real estate in Georgia: apartments in Tbilisi in Orexus Tower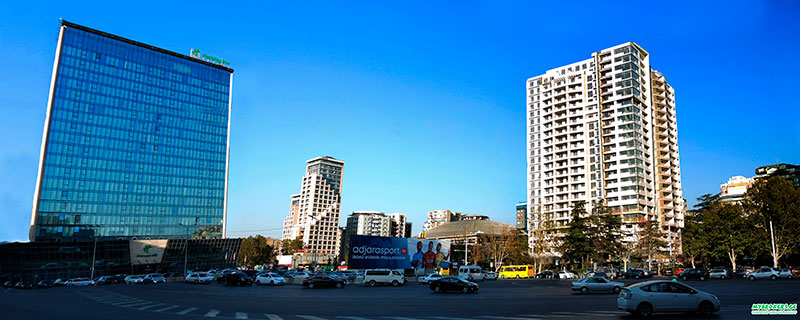 These apartments in the new building Orexus Tower in Tbilisi attract attention of foreigners and locals with their good location, high-quality modern renovation and the availability of everything necessary for immediately moving in after buying a property. They may be of interest to people who want to settle in the capital of Georgia for a long period, or businessmen or tourists who have visited Tbilisi for several days. Despite the difficulties associated with the pandemic and the challenges faced by the tourism business in the world, real estate in Georgia continues to be quite attractive investment option with potential high profitability.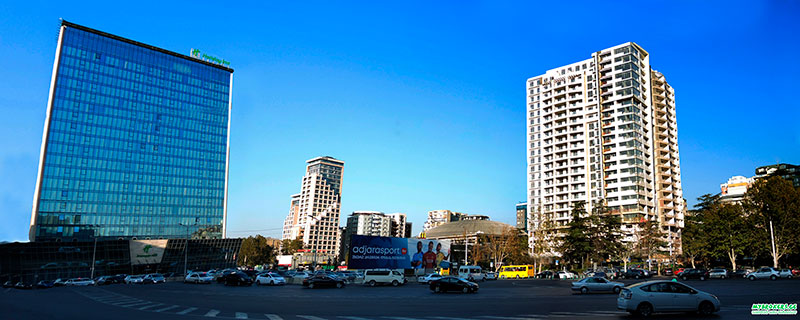 Where is the Orexus Tower complex located in Tbilisi?
Orexus Tower Residential complex is located in the central and highly busyy district of Tbilisi – on Kvernadze street right in the vicinity of the Sports Palace. There is absolutely everything envisaged for a comfortable stay, and all necessary facilities are within walking distance. In the immediate neighborhood of the new building you will find a pharmacy, a Nikora supermarket, a restaurant, McDonald's. The famous Tbilisi hotel Holiday Inn, a VTB bank branch , another hotel of the well-known chain Best Western Tbilisi, Kids smile children's entertainment center, Georgian National Center for Manuscripts, City Hall, Adjara Casino, the main building of the Technical University, State School No. 61 and a wide variety of cafes, restaurants and shops. From Orexus Tower to the center of Tbilisi distance is only 3.6 km, and to Dzveli Tbilisi (historical center of the city) – 4.4 km.
The new building's location is very good of in terms of transport accessibility. Nearby are several public transport stops, Technical University metro station. Distance from Orexus Tower to the airport – 20.4 km, to the railway station – 3 km, to the bus station Ortachala – 8 km, to the bus station Okriba – 6 km.
Attention!!! The apartments at Orexus Tower have a very good location. Accommodation located here on the Booking.com portal gets the maximum score.
Explore further attractive real estate properties in Georgia.
Briefly about Orexus Tower in Tbilisi
The Orexus Tower complex is a 25-storey modern building constructed using monolithic-frame technology. Its total area is 15,020.4 square meters. The new building has 220 apartments ranging from 50 to 150 square meters , which occupy 22 floors. The first three floors are commercial premises. And in Orexus Tower there are also office spaces with areas spanning from 18 to 340 square meters.
The new building was developed using modern energy efficient materials. And the increased seismic resistance of the house is guaranteed by a monolithic foundation and a monolithic reinforced concrete frame.
Each apartment in Orexus Tower has a spacious balcony, and the new building is equipped with all the latest modern engineering systems and high-speed noiseless elevators. Plus, for the convenience of residents and guests, underground and guest parking is also provided.
Apartments in Tbilisi in Orexus Tower
The property for sale is located on the 15th floor. The apartment is 60 square meters and has 1 bedroom, bathroom, studio-type kitchen and large living room.
All rooms have access to a large balcony. The apartment also boasts large panoramic windows that add light and space. It is also finished with a high-quality modern renovation and has all the necessary furniture (double bed, large sofa, equipped kitchen and bathroom, flat-screen TV, air conditioning) for comfortable living.
The area and equipment of the apartment in Orexus Tower allows a company of 4-5 people to comfortably accommodate here.
Why you should buy an apartment in Tbilisi in Orexus Tower?
Accomodation in Orexus Tower is especially attractive for its location in the downtown part, with all the underlying advantages (excellent transport and social infrastructure). Plus, the apartment has a high-quality repair, fully equipped with all necessary household appliances, plumbing, furniture. That is, the buyer does not have to spend time and resources on repairs and can immediately move in or rent out.
And last but not least – the steady and good income potential. Apartments in Tbilisi in Orexus Tower are actively rented out. Similar apartments can bring income from 40 USD per day, and with an increase in tourist activity – even more.
For purchasing real estate in Georgia, please contact us by e – mail at [email protected] or via online chat. Our experts provide a full range of services in the real estate market of Georgia.
When was Orexus Tower Complex commissioned?
The new building was commissioned in December 2019.
What infrastructure is available at the Orexus Tower?
On the territory of the complex you will find: children's playground and sports grounds, guest and underground parking, a recreation area with benches, a small garden.
Can I buy an apartment in Tbilisi at Orexus Tower remotely?
Yes, foreigners and residents of the country can become owners of an apartment in the newly commissioned Orexus Tower remotely with the help of an authorized representative.
Tags:
#Real estate in Georgia
#Tbilisi
You are welcome to review other interesting articles on Georgiawealth.info: