Buying real estate in Georgia with the right to a residence permit: a large apartment in Tbilisi on Shartava street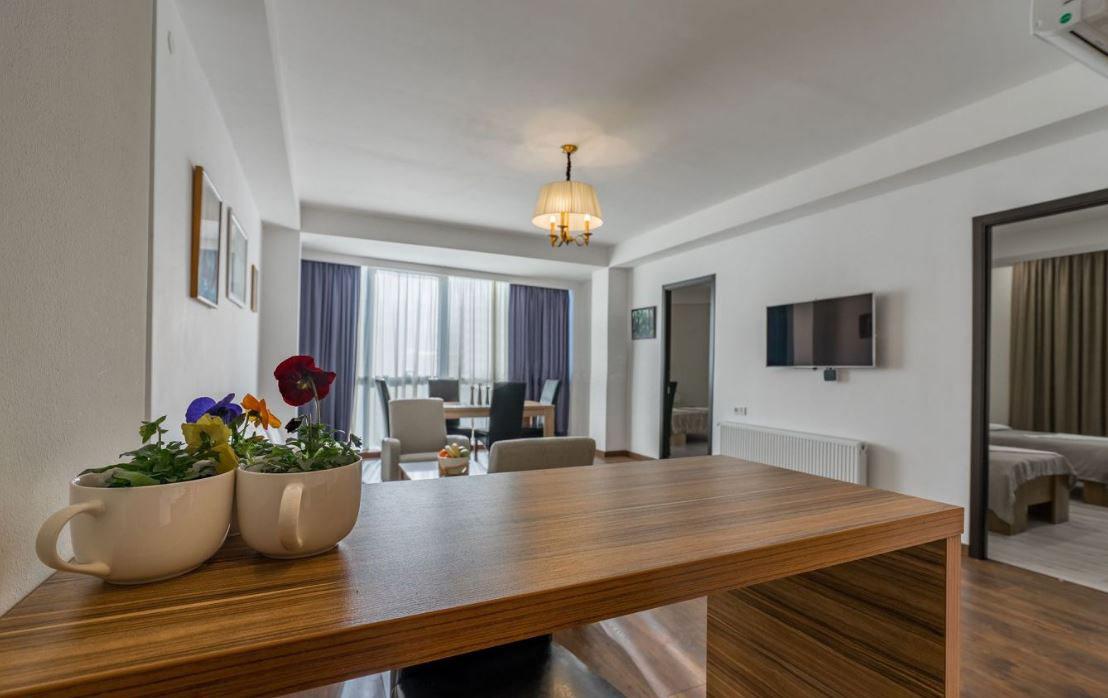 Investments in real estate in a capital city can be a remarkably attractive option, especially given the demand among foreigners, coupled with the many attractions of urban life which are equally valued by local residents as well as foreigners. Tbilisi is one of such capital cities: after all, many Georgians visit the city for sightseeing tours, or for business or for studying. Therefore, while sometimes the demand for housing in the capital may decrease, but still it is permanent, and considering large tourist flow by foreigners, it also grows significantly. That is why the apartment in Tbilisi on Shartava st. can become quite a profitable investment option.
Apartment in Tbilisi on Shartava st.: overview of location
The property for sale is located in the north-eastern region of Saburtalo district, in the vicinity of Kura River, where the Didube district begins. The microdistrict where the house is located is quite remarkable in terms of its logistics. There are many social infrastructure facilities here, and it is also very easy to get to any district of Tbilisi from here and it is also relatively close to the center.
In walking distance from the house where the apartment is located, you will find a hostel, a computer equipment store, Halyk bank branches , a notary public, a Chinese restaurant, SPAR grocery store , a small park, a pharmacy, Tbilotel Hotel Tbilisi , a fitness club and SPA, state school No. 62, a pizzeria. As you can see, a large number of social infrastructure facilities are concentrated in the area around the house.
There is also a bus stop very close to the house, and the nearest metro station "Medical University" is only 950 m away. The Tbilisi airport is located outside the city and you can reach there from the apartment within no more than half an hour (about 23 km).
Regarding the sights, they are mainly concentrated in the central part of the city, at about 6 km distance.
Get more information about real estate in Georgia.
Apartment in Tbilisi on Shartava st.: parameters and photos
Apartment in Tbilisi on Shartava st. for sale is located on the 8th floor of a 12-storey building. Its area is 118 sq.m. which includes:
3 bedrooms;
2 bathrooms;
huge living room with kitchen studio;
hallway area.
All rooms have panoramic windows with wonderful views of Tbilisi. A large amount of light that enters the apartment, provides a visual increase of space.
The kitchen and living room are zoned, which creates the effect of a full-fledged large hall.
All rooms have been renovated with high-quality design, suspended ceilings, spotlights, high-quality laminate floors, with tiles in the kitchen and bathrooms.
The apartment is fully equipped with:
furniture: available 3 double beds, sofas, armchairs, tables, kitchen;
household appliances: kitchen appliances, air conditioning, flat-panel TVs, plumbing fixtures;
textiles: curtains and bedding;
lighting and communications: internet, cable, electricity, gas, water supply, heating.
Apartment in Tbilisi on Shartava st. is ideal for family or rental for a company of 6-8 people.
Apartment in Tbilisi on Shartava st.: reasons to buy
The apartment attracts attention with its area, location, as well as high-quality repairs and equipment. It is also suitable for renting; e.g. accommodation offers, with significantly smaller area of ​​up to 20 sq.m. on Booking.com is rented at a price of USD 30 per day (booked for the late August 2020). Therefore, this apartment for sale can be leased at a price as high as 100 USD.
One more advantage of the purchase which is particularly worth mentioning, is the eligibility for a residence permit in Georgia, which, doubtlessly, significantly improves the status of a foreigner in the country, namely:
it gives the right to purchase agricultural land;
it provides access to electronic government services;
it simplifies the opening of bank accounts, both personal and corporate;
it provides access to online services of notaries;
it is a fairly affordable price for real estate of this class.
These and many other factors make investment in the above-mentioned real estate in Georgia quite attractive. Therefore, if you are interested in an apartment in Tbilisi, write to us by mail: [email protected] and we will help you organize the purchase transaction, even remotely.
What taxes should a foreigner pay upon renting an apartment in Tbilisi?
Income received from renting an apartment in Tbilisi on Shartava st. for rent is taxed at a rate of 5%.
How long will it take to proceed the purchase of an apartment in Tbilisi?
1 working day is sufficient for a foreigner to become an owner of an apartment in Tbilisi. Within one day information about the purchase will be entered in the Public Register to reflect new ownership title of the buyer.
What is required for buying apartment in Tbilisi on Shartava st.?
To purchase an apartment, it is enough for a foreigner to have a foreign passport, in case of remote purchase you need to issue a notarized power of attorney for your representative.
Tags:
#Georgia
#Real estate in Georgia
You are welcome to review other interesting articles on Georgiawealth.info: