Real estate in Georgia: luxury apartments in Tbilisi with the right to a residence permit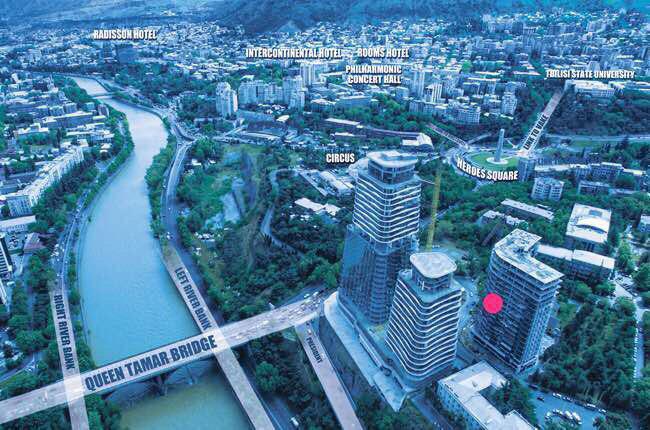 Apartments on the 12th floor in a prestigious location right in the capital of Georgia will certainly be a profitable investment opportunity. Tentatively, rental of such property can generate income in the amount of $ 10,000 per year, which corresponds to 6% return on investment per annum. In addition, price of the apartment – about 144,000 US dollars, entitles the owner to another nice bonus – a short-term residence permit in Georgia.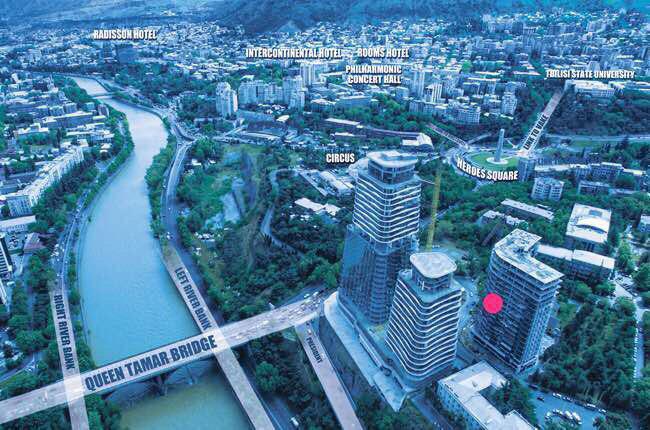 Real estate in Georgia: location and overview of apartments
Simplified process of purchase, the lack of red tape, the optimal price-quality ratio, as well as the quick return on investment – these are some of the factors which make purchase of a property in Georgia a profitable placement of capital.
Housing in Georgia, and especially in Tbilisi, is in stable high demand, which is formed by such factors:
business environment – the capital of Georgia is one of the most appealing cities in terms of doing business. Almost all government institutions are located here; thematic exhibitions, fairs and other business events are periodically organized in the capital; there is a Free Industrial Zone and a large number of skilled employment workforce. According to the Georgian Statistical Office, enterprises registered in Tbilisi generate more than 50% of the country's GDP;
Tourism – Tbilisi is the most visited city in the country. There are numerous historical and cultural attractions, fascinating restaurants and cozy wine bars. And the presence of international airport and railway station strongly contribute to the constant tourist flow, which does not decline here all year round. In 2019, Georgia received more than 3 million foreigners only through Tbilisi Airport.
Education – the largest number of educational institutions are concentrated in the capital, where not only residents of other states come to study, but also Georgians from other regions of the country;
Urbanization – people from other regions of Georgia seek to relocate to the capital, as it is easier to find work here, the social infrastructure is better developed, and the standards of living are higher.
Due to all of the above, it can be stated with high degree of confidence, that the demand for rental housing in Tbilisi will only continue to grow.
Location of the newly constructed building
The apartments for sale are located in Saburtalo district. This is the largest suburb district in Tbilisi. It has been a permanent leader for several years In terms of the number of transactions for the sale of real estate. Housing here is popular, as Saburtalo has a well-developed transport connection, the subway line runs through the entire district, and there are also all the necessary social infrastructures which make it comfortable for living for a short or long period.
The building where the apartment is located, has a very convenient venue in every respect. At comfortable distance from transport hubs, many objects of social infrastructure; there are a lot of places of attractions, as well as picturesque natural pieces and trees.
So, let us consider everything in its order: the new building is located in the eastern part of the Saburtalo district, not far from the Queen Tamar bridge. The building is only at 200 meters distance to the Kura River, and in closest proximity to King David LC. In walking distance from the house are located: Tbilisi Zoo, Tbilisi Circus, Georgian National Center for Manuscripts, National Science Library, night club, supermarket, restaurant, children's entertainment center, a large number of food and non-food stores. Also, in the near neighbourhood are located Sports Complex and McDonald's (750 m), the Holiday Inn Tbilisi hotel , a children's hospital (1.2 km), Ivan Javakhishvili Tbilisi State University block (1 km), Vere Park (1.3 km), the embassy of Estonia (1.8 km), school # 195 (1.8 km), and many more cafes and restaurants, boutiques and supermarkets.
Well-developed transport infrastructures are located near the newly constructed building. There are a large number of public transport stops, and the metro station "Technical University" is only 850 meters from the building. Distance to the Shota Rustaveli International Airport is 19 km away, and to the train station – only 2 km.
Nearby Attractions:
Freedom square – 3 km;
Peace Bridge – 3.4 km;
Dzveli (Old) Tbilisi – 3.4 km;
Tbilisi funicular – 3.4 km;
Tsminda Sameba – 3.5 km;
Narikala Fortress – 3.9 km;
Sulfur baths of Abanotubani – 4.6 km.
To summarize the above, the apartment is located in a very attractive area, not far from the center of Tbilisi (Shota Rustaveli Avenue is just 2.6 km away).
Characteristics and overview of apartments
The apartment that we offer to purchase is located on the 12th floor of a 27-story building. A wonderful view of Tbilisi and the mountains – bewildering and captivating, opens to a spectator. The area of ​​the apartment is 61.8 square meters, which is optimal for a family with two children or a small group consisting of 4 people.
The apartment has 1 bedroom, with adjacent bathroom, a large studio kitchen, toilet and a balcony. First-class design renovation and interior decoration in all rooms, furniture, lighting and curtains, all tastefully selected. The kitchen, toilet and bathroom adjacent to the bedroom are fully equipped with plumbing. The apartment also includes all the necessary appliances (flat TV, refrigerator, air conditioning). The balcony is also decorated following top-trending renovation models. There is a small table and sofa where you can have coffee in the morning watching the beginning of lively day in Tbilisi or spend the evening enjoying the captivating view of city lights at night.
The kitchen in the apartment deserves special attention: it is equipped with household appliances from Bosch world famous company, and the furniture is made using high-quality flush mounting fittings.
The apartment also offers all the necessary communications, internet and heating system.
The cost of a comfortable apartment with designer renovation in Tbilisi – 417 000 GEL (about 144 000 USD).
Return on investment on real estate in Tbilisi
The above-mentioned apartment is located in a very convenient venue, has first-class repair, equipped with all communications, furniture and household appliances. The new owner can immediately start using it for personal residence or for rental. Moreover, this acquisition entitles the owner to apply for a residence permit of Georgia, with all the underlying benefits (simplified border crossing, equal rights with the inhabitants of the country).
According to Booking and Airbnb, rental of similar real estate can generate on average 35 USD per day. For a year, even if the apartment is not busy on daily basis, it can still be able to generate income of about 10,000 USD annually. After subtracting the costs of utilities, the net profit will be approximately 8,500 USD per year, which corresponds to 6% per annum in foreign currency – which is higher than majority of interest rates on deposits offered by any of the banks.
If you are interested in real estate in Georgia, please contact us by e – mail: [email protected]. We have an comprehensive offering of residential and commercial real estate, and you can be sure to find the right asset that will fully satisfy your requirements.
We also would like to bring to your attention a few other residential properties in Tbilisi:
Tags:
#Apartments in Tbilisi
#Real estate in Georgia
You are welcome to review other interesting articles on Georgiawealth.info: