Real estate in Steps Residential Complex on the seashore in Batumi with the right to residence permit in Georgia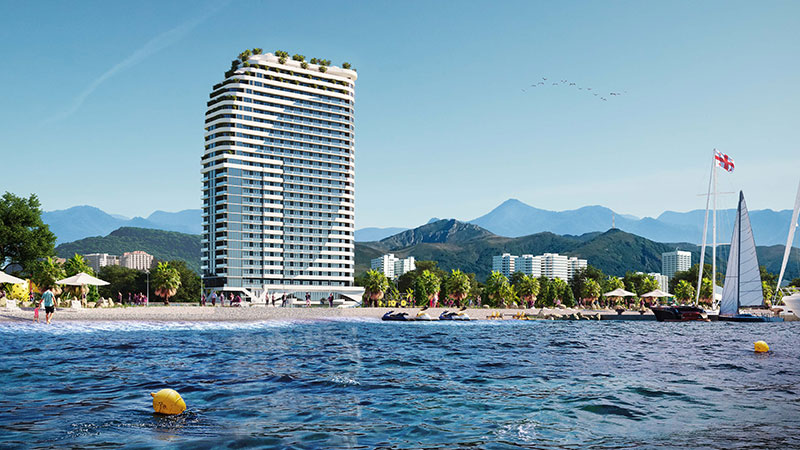 The Steps residential complex, which currently under construction on Noviy (New) Boulevard in Batumi, is a perfect combination of good location, developed infrastructure and top-tier quality. Moreover, the apartments purchased here can become a real profitable asset, and not merely an object of property which consumes resources. In addition, today buying an apartment in a newly constructed building will provide an opportunity for significant saving of resources. Indeed, at the moment, the cost of 1 sq.m. in the Steps residential complex starts from 850 USD, and after deployment of operations, the price per 1 sq.m. will exceed USD 1,000.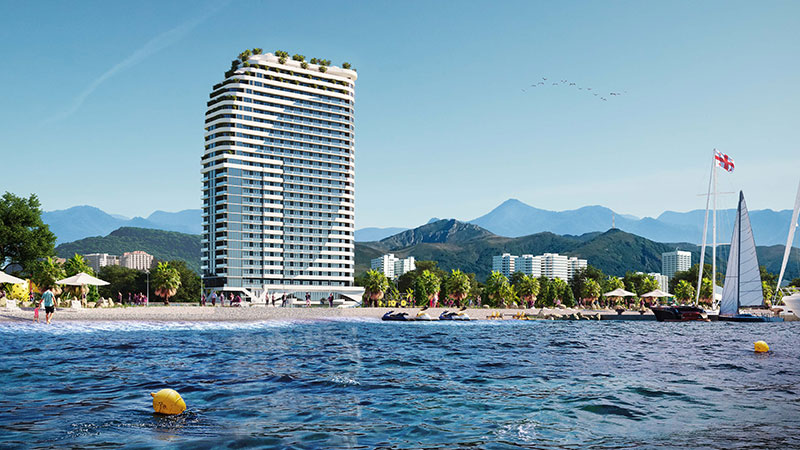 Real estate in Batumi: an overview of the Steps residential complex
Real estate in Batumi for several years has been increasingly popular among investors. This is because this city is the most well-known Black Sea resort in Georgia and there is a huge demand for rental housing here. Batumi is the preferred venue for relocation by residents from neighboring countries like Ukraine, Russia, Belarus, Azerbaijan, Turkey. And lately, the flow of tourists from such European countries as Lithuania, Latvia, Germany has also considerably increased.
Find out how to get a residence permit in Georgia , including for the purchase of real estate.
Key Features of Steps RC
The Steps residential complex is positioning itself as a multifunctional complex, with extensive and comprehensive infrastructure; it will also be a hotel. Complex plans to have its own botanical garden as an additional location for comfortable entertainment and leisure for residents and guests of the residential complex. As of the beginning of 2020, this is the only object in Batumi that has been deployed on a fully green territory.
The building is being built according to the monolithic-frame technology which has been widely used in Georgia recently, taking into account the new regulations of the Georgian government. The construction of the building began in January 2019, and the commissioning of the facility is scheduled for December 2021.
The new building will comrpise 27 floors, of which:
a spacious reception on the ground floor;
the largest business center in Batumi on the second floor;
the hotel will occupy the third and fourth floors;
apartments will be located from the fifth to the twenty-sixth floors,
and on the top floor a restaurant is planned.
Location of the Steps residential complex
The newly constructed building is located in the area, which is currently in actively developing stage with a lot of construction going on here. We are talking about Noviy Boulevard, which was a continuation of the famous Batumi Boulevard. It is here that new hotels and comfortable multi – functional complexes are being built and opened at extensively fast rates.
RC Steps is located near the Lech and Maria Kaczynski street, which is a very prestigious location. Across the road from the building lies the famous Seaside Park, where there are a lot of interesting objects: slippers on eggs, a labyrinth, dancing fountains. And right after the park itself you will reach the beach and the sea.
The transport infrastructure is fairly accessible right in the building's neighbourhood: there is a public transport stop, and international airport is only 2 km to the south from there, E70 international highway is only 1 km far, which connects to Tbilisi (376 km), although is much closer to the border with Turkey in Sarpi district (16 km).
A large number of hotels and guest houses are located within walking distance from Steps RC , and there is a casino Eclipse opposite the new building – 280 meters from the huge Metrocity Mall, with vast variety of shops, cafes, boutiques. 230 meters away there is the Turkish school. At a distance of 1.1 km is the Mother and Child Hospital. Directly on the beach, residents and guests can enjoy their leisure in a wide variety of cafes and restaurants, as well as other entertainment venues.
Infrastructure of RC Steps
The developer of the complex is planning to create excellent conditions for living and recreation in Batumi. Therefore, the new building will be equipped with all required infrastructure:
spacious and 24-hour reception;
business center with an area of 1,500 sq.m.;
Botanical Garden (an exact replica of the famous Batumi Botanical Garden) with an area of 1,000 sq.m.;
restaurants and cafes;
fitness room and SPA center;
underground and 3-storey ground parking for 200 places;
playground;
Pool with a retractable roof;
closed territory with security and round-the-clock video surveillance;
4 high-speed elevators (2 freight and 2 passenger).
Furthermore, the developer placed extensive importance on fire safety. The new building will have elevators with fireproof doors, special rooms where oxygen will be supplied in case of fire, smoke and fire detectors will be installed in the apartments and corridors. In addition, Steps RC will have installed backup power and water supplies.
Owners of apartments who want to rent them out will not need to spend time solving organizational issues, since all these tasks can be delegated to the management company. It is the management company that will manage hotel rooms and apartments for rent in Steps residential complex.
Characteristics of apartments in the Steps residential complex
In total, 550 apartments and 100 hotel rooms are planned in the residential complex. The area of ​​the apartments is from 24 to 125 sq.m. The ceiling height is 3 m, apartment types are: studio , 1- and 2-bedroom apartments. They will be offered for sale in a "white frame" state. This means that the apartment will have:
entrance doors and interior partitions installed;
communications, sewers and plumbing installed;
screed on the floor;
electric and wet spots fixed.
For an additional fee, the developer will make a turnkey repair in the apartment according to the design developed by French architectural designers and approved by the property owner. The apartments can be fully equipped with furniture, household appliances, textiles and accessories, so that you can immediately use them for personal residence or rental.
Profitability calculation for apartments in the Steps residential complex
Apartments in the Steps residential complex can become a profitable object of investment, which will general real profit, both from renting out, and from the growth of their value upon sale. After all, it is no secret from the moment of construction to the commissioning of the house the price of 1 sq.m. real estate grows by 20-40%. And consider that currently the cost of finished housing on New Boulevard in Batumi exceeds 1,100 USD. In other words, apartments in Steps residential complex will increase in price by 30%, once the building is commissioned and interior finishing is finalized. You can also forecast the income that renting of a studio apartment in Steps RC can bring. Housing with similar parameters and characteristics is rented at a price of 40 USD per day during off-season (January-April and October-December), the season is starting already in May, when the price rises to 45 USD. The apartments bring maximum profit from June to September – from 50 to 70 USD per day. Thus, even if you take away all the costs of maintaining the property and plan the occupancy rate at 45%, the net profit per year will be about 5,000 USD. Thus, we may forecast return on investment in apartments in the Steps residential complex within 4-6 years.
The cost of 1 sq.m. in the Steps residential complex as of the beginning of 2020 starts from 850 USD. If you are interested in real estate in Batumi for personal use or rental, send us an e – mail at info@offshore-pro.info and we will contact you promptly.
You can also get familiarized with another interesting object for investing in Batumi, namely – apartments in the Batumi Riviera residential complex .
Tags:
#Housing In Georgia
#Real Estate Batumi
#Real estate in Georgia
You are welcome to review other interesting articles on Georgiawealth.info: