Exclusive real estate from Schuchmann Wines Luxury Villas in Georgia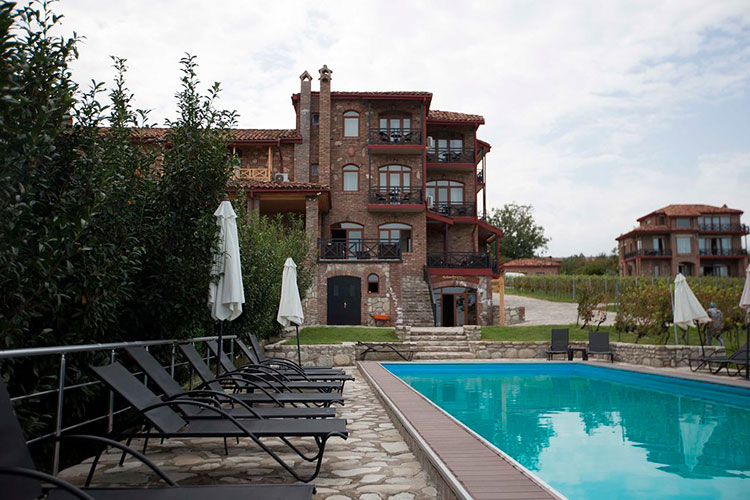 Many people dream that one day they would go out onto their home terrace and enjoy the view of their own picturesque vineyards that stretch to the mountains over the horizon. And this dream can come true with Schuchmann Wines Luxury Villas in Kakheti. The buyer of the villa not only obtains a comfortable housing, but also vineyards in the Alazani Valley; thanks to the unique climate, beautiful grapes grow in this area, from which delicious Georgian wines are made. An additional pleasant bonus to the investment is the eligibility for a short-term residence permit in Georgia.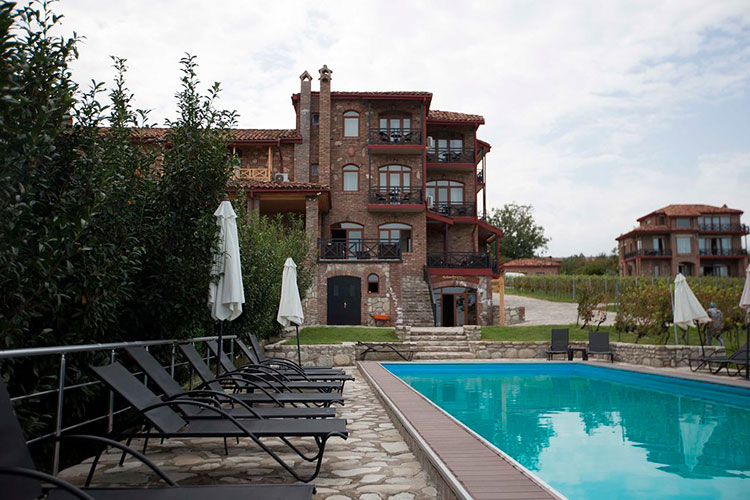 Benefits of buying a property in Georgia at Schuchmann Wines Luxury Villas
The purchase of Georgian real estate is a growing trend among foreign investors. Indeed, it is an optimal combination of price and quality. This type of property can be used not only for your own living and recreation, but also can definitely be used as a stable source of passive income for you as an investor.
The Schuchmann Wines Luxury Villasp project offers even vaster opportunities for their owners. Apart from stunning villa accommodation which can be used as a comfortable and cozy housing, the property owner also gets hold of vineyards that grow in the best location for wine production – in the Alazani Valley.
Another nice bonus for the buyers of villas is that it makes them eligible to a short-term residence permit in Georgia. It is valid for 1 year, but as an owner of real estate in Georgia, you can apply annually to renew its validity period. With a residence permit in Georgia you can benefit from simplified border crossing procedures (if you have a short-term residence permit, you do not need to apply for a visa), and also enjoy equal rights with Georgian nationals.
Thus, let us summarize all the benefits of owning a villa in Schuchmann Wines Luxury Villas project:
comfortable and cozy accommodation with a wine cellar;
vineyards in the best location for wine production;
right to short-term residence permit of Georgia;
ability to receive stable passive income from renting a villa.
Needless to say, these prospects are more than promising and lucrative for an investor.
Real estate in Kakheti: region's investment perspectives
Georgia is a country of beautiful nature and the cradle of winemaking. It also offers numerous historical and cultural attractions. All this combined with the well-known Caucasian hospitality, specific and delicious cuisine, make the country increasingly popular among foreign tourists, as evidenced by the rapid growth in the number of travelers to Georgia. So, in 2019, the number of foreigners visiting this beautiful and hospitable country exceeded the mark of 9.3 million people. For comparison, the country's population is only 3.7 million people.
Moreover, foreigners are not only interested in the capital of Georgia or Batumi as most popular destinations. Other regions of the country are also gaining growing popularity among tourists. This is especially true for Kakheti. According to Sakstat, the average number of visitors to this region in the third quarter of 2019 reached 96.9 thousand. For comparison, over the same period last year, this figure was at the level of 75.2 thousand people.
Kakheti – dizziest region in Georgia
Kakheti is highly attractive destination for tourists. After all, this is the most remarkable wine-growing region in Georgia. Here, vineyards grow in a unique climatic zone that emerged in the valley of the Alazani and Iori rivers, at an altitude of 400-700 m above sea level on humus- carbonate, black and alluvial soils.
Of the 18 wines that are of Georgian origin, 14 are produced in Kakheti. We are talking about: Tsinandali, Gurjaani, Vazisubani , Manavi , Kardanakhi , Tibaani , Kakheti , Kotekhi , Napareuli, Mukuzani, Teliani , Kindzmarauli, Akhasheni and Kvareli . All these wines are made from such popular grape varieties as Rkatsiteli, Kahuri Mtsvane ( Kakhetin Green), Kisi , Khikhvi , Budeshuri , Mtsvivana, Sapena , Kunsi , Saperavi, Cabernet Sauvignon, Tavkveri and Ikalto Red. But the most common variety for the region is Saperavi.
Wine in Kakheti is made according to traditional Georgian technology, which dates back to several thousand years. The key stage of the winemaking process is the pressing of grapes with further storage of the wort in special containers called "qvevri". In addition to the traditional Georgian method, wine is made in Kakheti using traditional European technology as well.
It should also be noted that the tourism development strategy in Georgia provides for the establishment and state support of the Wine Road tourist route, which will include familiarization of travelers with 46 wine cellars and factories of the country. And taking into account the specifics of Kakheti, it can be safely assumed that the principal part of this Route will lay through this region.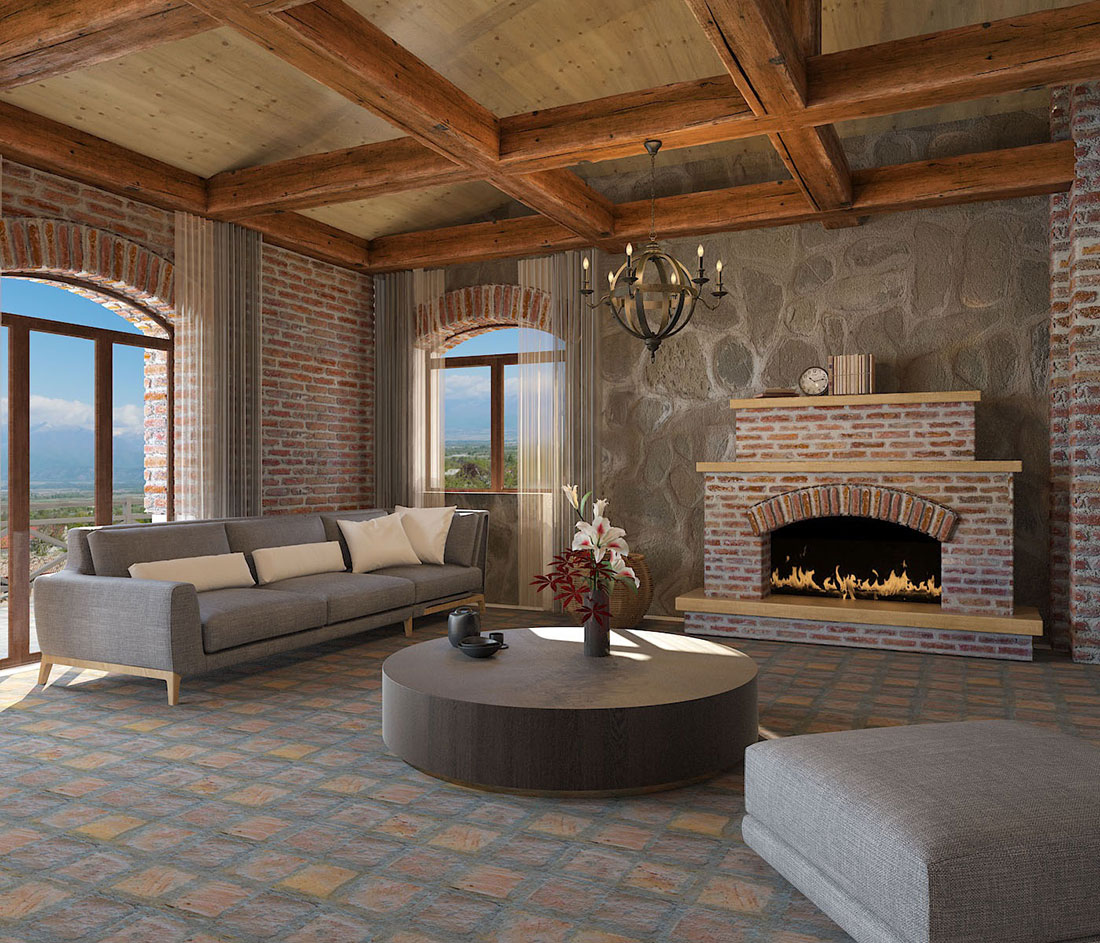 Meet Schuchmann Wines Luxury Villas project
The Schuchmann Group of companies was established in 2008 in Georgia by the German winemaker Burkhard Schuchmann. It is engaged in activities in the field of tourism, cosmetics, winemaking, as well as in real estate. It is the latter that causes the greatest interest among potential investors. After all, the company offers not just a luxury villa to buy in Kakheti, but a villa with vineyards, which is located on the territory of the chateau and SPA Schuchmann Wines in Kisishevi (not far from Telavi). Here, tourists can not only relax, but also enjoy wine- tasting: Saperavi, Rkatsiteli, Kisi, Kindzmarauli, Mtsvane and Cabernet Sauvignon, made from local grapes: Saperavi, Napareuli, Tsinandali, Kindzmarauli. Wines are made here both in Georgian and European technology. The popularity of Schuchmann brand wine is evidenced by the fact that the company annually produces about 1.5 million bottles of drink, of which 90% is exported, and 10% is consumed by the Georgian market.
Yet, not only wine and vineyards are remarkable in the Schuchmann Wines Luxury Villas project. Of 120 hectares of land owned by Burkhard Schuchmann, only 60 hectares are occupied by vineyards. The rest of the area houses a luxury hotel with a swimming pool, villas and all the necessary infrastructure for a comfortable stay.
The hotel is made in a French boutique style, offers 20 rooms with a beautiful view of the Caucasus Mountains and the Alazani Valley. In addition to comfortable rooms, here you will also find:
a restaurant where you can taste delicious Georgian and European dishes, as well as enjoy a glass of Georgian wine;
a SPA where you can relax in a hot wine bath and enjoy a unique cosmetic procedure – scrubbing with grape seeds.
Additionally, the Schuchmann company offers tours to Georgia, to foreigners can get to know about the culture and history of the country, as well as enjoy its natural beauties.
Summing up all of the above, the Schuchmann Group operates in the following areas:
recreation in a comfortable hotel in Kisiskhevi;
production and sale of wine;
exclusive SPA procedures;
tours inside Georgia.
Owners of villas in Schuchmann Wines Luxury Villas as well as their guests have access to all these benefits and services. They can also use the infrastructure that is on the territory of the chateau. In addition to all of the above, Schuchmann managers also organize the rental of your villa which makes your real estate in Georgia not only a place for a premium holiday, but also a valuable asset that would bring a steady income in the long run.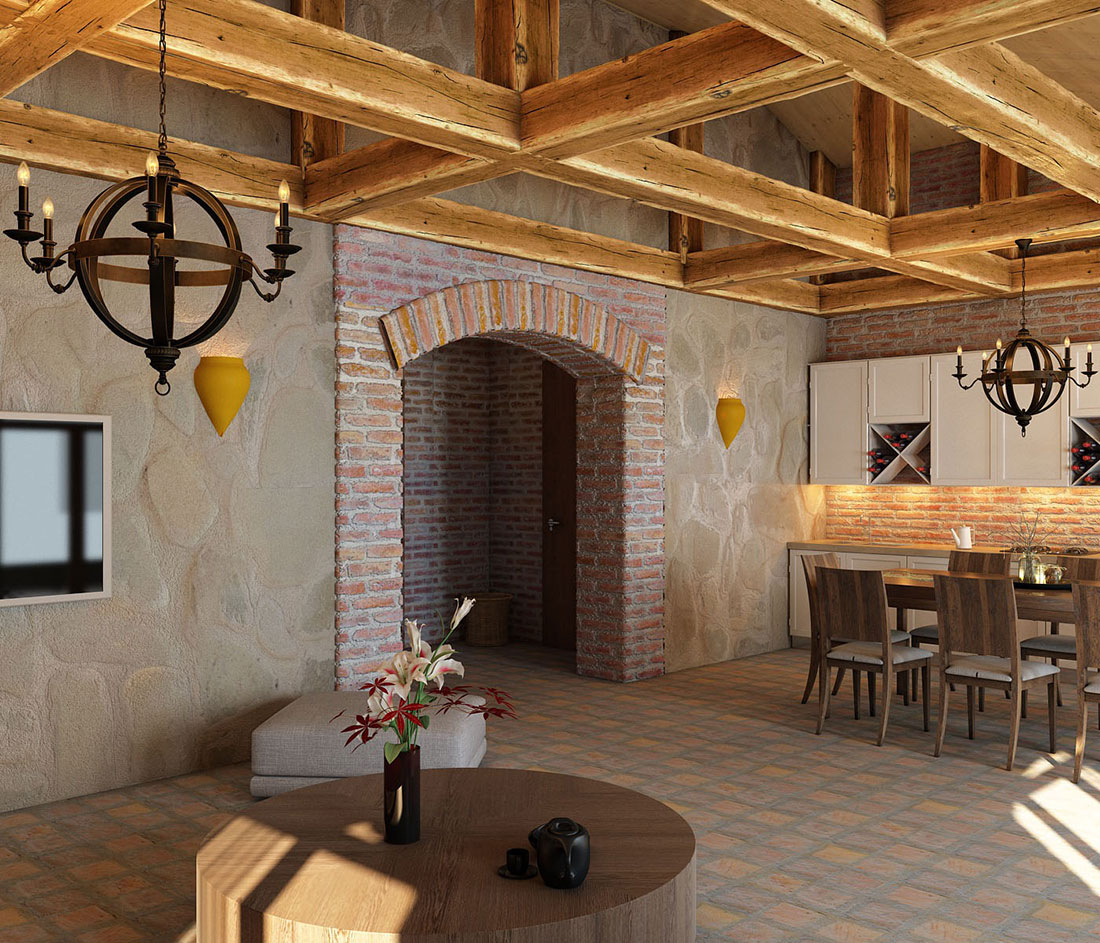 Real estate in Georgia: infrastructure of the Schuchmann Wine chateau in Kakheti
Kakheti is characterized by its subtropical climate which is very similar to the climate of the southern foot of the Italian Alps. The region is remarkable with its hot summers and moderately cold winters. The average temperature in July is 25 ° С, and in January – 0 ° С, precipitation is 700-800 mm per year.
These comfortable villas are located in a unique climate zone. The territory of the villas is located on a secured area of ​​5 hectares, surrounded by private vineyards with total of ​​600 sq.m., surrounded by extensive greenery and sunny; owners and guests can also enjoy beautiful views of the Caucasus Mountains and the Alazani Valley. This area is closed to guests of the Schuchmann hotel, but instead the entire chateau infrastructure is available for holidaymakers in the villas.
On the territory of Schuchmann Wines many services are offered that will make your time here unforgettable:
Vineyards 600 sq.m. adjacent to each villa;
A wine bar where wine made from local grapes is sold (delivery service can be ordered);
A private wine club at the factory where wine is made;
Georgian restaurant where all dishes are prepared with organic products bought from local farmers;
Outdoor pool;
Tennis court;
Wine SPA;
Field for mini golf;
Gym and children's playground;
A helicopter pad;
Parking;
Concierge service;
24-hour security.

Real Estate in Georgia: an overview of the Schuchmann Wines Luxury Villas
All villas are built in the architectural style typical of Kakheti. Their construction uses exclusive natural materials from Georgia: river stone, wood, Georgian brick of the XIX century. The villas are fully equipped with furniture, the design of which is unique and specially created for the Schuchmann Wines Luxury Villas project.
Uniqueness and comfort are the main principles that are followed by the developer. Everything here is exclusive and unique: furniture, interior, exterior, which are at the same time cozy, convenient and practical.
Return on investment in Schuchmann Wines Luxury Villas
Schuchmann Wines Luxury Villas located in township Kisiskhevi, in the neighborhood of Telavi (7 km) in an ecologically clean area. Forests and mountains are right behind the property. This place is very beautiful and is very popular among foreigners and tourists from other regions of Georgia. This is evidenced by numerous enthusiastic reviews on the Tripadvisor (rating 4.5) and Booking (rating 8.9) portals. According to the Tripadvisor portal, Schuchmann Wines Chateau, Villas & SPA is the best B&B / mini hotel / hotel in Telavi (has a certificate of quality).
The cost of renting a one-storey villa is 90 USD, and a two- storey villa – 240 USD per day (data for February 2020). Considering that the hotel occupancy rate is about 60%, a 1-storey villa can bring about 19,700 USD per year. Demand for 2-storey villas is less (about 40%), and as a result it can bring approximately 36 000 USD in annual income.
Profitability figures are as follows: 1-bedroom villa – 7.8% per annum, 2-bedroom villa – 12% per annum in USD. This is higher rate of return than can be offered by any Georgian, European or Asian banks. In addition, it is expected that the level of hotel occupancy will increase in the medium term. This is due to an increase in the number of tourists and active promotion of the region around the world.
If you are interested in buying a villa in Schuchmann Wines Luxury Villas, in the very "heart" of Kakheti, please do not hesitate to contact us at: [email protected]. We will be happy to help you acquire a profitable asset and ensure stable passive income.
Tags:
#Housing In Georgia
#Real estate in Georgia
#Resident permit in Georgia
You are welcome to review other interesting articles on Georgiawealth.info: