Luxurу apartments in Tbilisi + residence permit in Georgia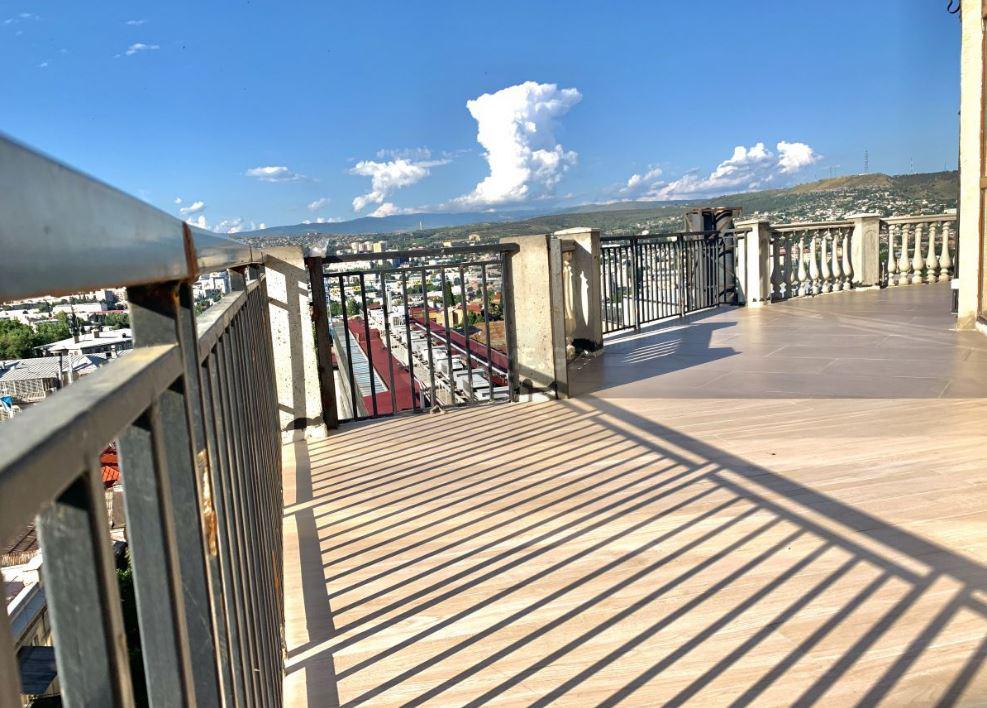 These spacious, or perhaps even enormous, apartments in Tbilisi will be of high interest to businesspeople who plan to move or relocate to the country for business or for permanent residence. The owner of these apartments will become eligible for a residence permit in Georgia, and hence, gain access to significantly simplified turnaround in terms of public and private services in the country, which equalizes a foreigner in rights with Georgians. These apartments have a substantial number of advantages, including location, high-quality design renovation, full equipment with furniture and household appliances. And besides personal residence, the new owner will be able to lease them to businesspeople who love comfort.
Where are the luxury apartments in Tbilisi located?
The apartments for sale are located in the most prestigious area of ​​the capital of Georgia – Vake. Moreover, in the very center of the district, on the Tamar Chovelidze street. There is absolutely everything for the comfort of your long-term or temporary stay, right in the immediate neighborhood. As this is almost the center of the city, you will find within a few minutes' walk from the apartments such attractions as Dzveli Tbilisi or Old Tbilisi, a definite place to visit for tourists from different countries and corners of Georgia.
So, let's explore further the various entertainment and public venues which are within walking distance from the apartment: Lolita restaurant , Adjarabet casino , Keto da Kote restaurant, public school №51, Central McDonald's, coworking Terminal, Tbilisi Concert Hall, Khinkali House restaurant, Indian restaurant, Vere park, casino Iveria, Biltmore hotel- the most expensive and prestigious hotel in Tbilisi. Figuratively speaking, the house where luxury apartments are sold in Tbilisi is located right in the heart of the tourist hub, practically in the central part of the city. Here, as in any other downtown area, you will find wide variety of restaurants, cafes, shops, boutiques, as well as other entertainment facilities designed for tourists.
Rustaveli Avenue is only 500 m away, and the old part of the city – 1.5 km from the building. And here you will find all that attracts travelers so much: Mtatsminda Park, funiculars, Peace Bridge, Narikala Fortress, Rike Park, Dry Bridge flea market, House of Justice (the one with petals) and many other interesting sights.
Distance to major transport hubs
Distance from the building, where the luxury apartments in Tbilisi are located, to:
airport – ~ 30 minutes by car (19.2 km);
the central station of the railway station – ~ 7 minutes by car (3.3 km);
Ortachala bus station – ~ 12 minutes by car (6.8 km).
In general, the location of the apartments is highly convenient, both in terms of the availability of social facilities and transport infrastructure. The nearest metro station Rustaveli is just 500 meters away.
Prestigious apartments in Tbilisi: photos and parameters
Luxurious and spacious apartment for sale are located on the 8th floor of a 9-storey building. In terms of area, the apartments can fairly compete with a private house: 245 sq.m. , of which 70 sq.m is dedicated to an enormous terrace overlooking Tbilisi and the mountains.
The apartment has 3 bedrooms, a study that can be used as a bedroom, 2 bathrooms, a living room, a kitchen-studio. The owner also gets access to 2 parking spaces, which is very important, because it may be extremely challenging for car owners to identify free parking sites in the downtown part of the capital.
All rooms of the apartments have been renovated using high quality materials, all rooms come with state-of-the-art furniture, lamps, textiles, household appliances. The finishing here is smart, comfortable and of the highest quality.
The area and accommodation within the apartments in Tbilisi allow to comfortably host a large company – at least 7 people. It is also an ideal place to stay for businesspeople who have visited the capital of Georgia on business.
The key reasons to buy luxury apartments in Tbilisi
These luxurious apartments in the central area of ​​the capital with high-quality modern renovation and furniture, fully equipped and ready for living, cannot leave you indifferent. Their advantages include but are not limited to:
location – city center (Vake district);
availability of parking spaces;
income potential – similar accommodation, even now, during the pandemic, is rented at a price of USD 100 per day (booking as of August 2020)
affordable price a real estate of this class- 1,700 USD per 1 sq.m.
eligibility for a residence permit in Georgia.
All these factors oblige investors to turn their attention to these luxurious apartments in Tbilisi. Therefore, if you are interested in them, write to us at info @ offshore – pro . info or online chat. And we will answer you within a few minutes.
Check out more real estate offers in Tbilisi and Batumi, here you will find what suits you best.
How long will it take to buy a luxury apartment in Tbilisi?
The sales contract is prepared within a day. On the same day, after paying the full amount for the purchase, you can register the ownership in the Public Register of Real Estate of Georgia.
Can I buy these apartments in Tbilisi remotely?
Yes, buying remotely is also an option, moreover, it is secure and completely confidential. It can be carried out only with a power of attorney issued in the name of your authorized representative.
How long will it take to obtain a Georgian residence permit after purchase?
It will be possible to obtain a residence permit in Georgia by using the accelerated procedure in 10 calendar days, according to the standard procedure – in 30 days; you can also obtain a temporary residence permit in 20 calendar days.
Tags:
#Housing In Georgia
#Tbilisi
You are welcome to review other interesting articles on Georgiawealth.info: