First-class renovated apartment on Chavchavadze in Tbilisi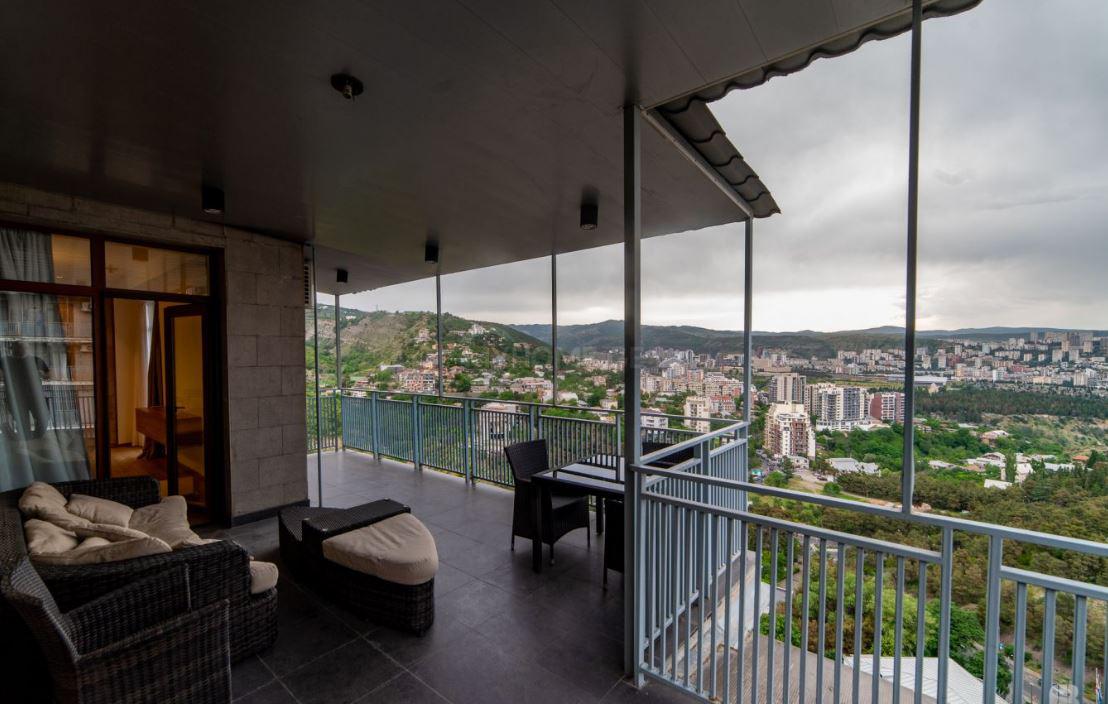 We offer you a large apartment in a prestigious area of ​​the capital of Georgia with stunning mountain views. It is located in an ecologically clean neighborhood, directly in the Vake Park. It is a quiet place with lots of greenery and nature. This apartment in Tbilisi is also attractive for investments in terms of the possibility of obtaining a temporary residence permit in Georgia, and it also has a high-income potential. Let's get to explore the opportunity in more detail.
Where is the apartment
The first-class apartment is located in Vake, a very prestigious district in western part of Tbilisi. The microdistrict is on the outskirts of the city, in an incredibly green zone, in close proximity to the suburb of Tbilisi and the Tskhneti cottage area. In the immediate neigbourhood of the house there are not many of objects of social infrastructure, yet here you will find a Tera bank branch, a building of the University of Business and Technology, St. George's School, Europroduct supermarket, Nikora store, Merab Berdzenishvili International Cultural Center, cafes, children's entertainment center Lost and a huge park. In general, absolutely everything necessary is available for making your long or temporary stay most comfortable. And from the house only 560 m to the ethnographic museum, 1.5 km to Turtle Lake.
A lot of social infrastructure facilities are concentrated 1 km east of the building: cafes and restaurants, embassies of Ukraine and Iran, the consular service of Russia, Georgian University, M. Meskhi football stadium, a fitness hall, a sports pool, grocery and non-grocery stores.
The area where the apartment is located, can be most agreeable to those who prefer calm and quiet environment without much of a busy city's fuss.
Explore more to learn about real estate of Georgia
How far is the distance from the apartment to the main cultural sites of Tbilisi?
The distance from the apartment to the main cultural sites of Tbilisi is as follows:
city ​​center (Shota Rustaveli Avenue) – 6.4 km;
Dzveli Tbilisi (Old City) – 6.5 km;
Tbilisi funicular – 6.5 km ;
House of Justice – 8.2 km ;
Dry Bridge Market – 8.6 km ;
Narikala Fortress – 8.7 km ;
Sulfur baths of Abanotubani – 8 , 8 km ;
Rike Park and the cable car – 8.9 km;
Holy Trinity Cathedral in Tbilisi – 9.3 km.
In Tbilisi, most tourism attractions are located in the Old City, there are also a lot of Georgian cafes and restaurants where you can taste many Georgian and European dishes.
Is it difficult to get to this apartment in Tbilisi?
An important highway of the city – Ilya Chavchavadze Avenue lies in the close proximity to the building where the apartment is located. By this road you can comfortably reach any district of Tbilisi, both by private car and by public transport. Also, there is a public transport stop near the building, which serves 7 routes to various directions.
Distance from the house to the main transport hubs:
Shota Rustaveli International Airport – 23.8 km (about 40-45 minutes by car);
Tbilisi Central Station – 7.4 km (about 22 minutes by car);
Ortochala bus station – 12 km (about 26 minutes by car).
Parameters and photos of the apartment
The apartment is located on the 11th floor of a 13-storey building. Due to its location at a higher floor, it offers beautiful views of Vake Park and the mountains. The area of ​​the apartment is 196 sq.m. .
The apartment has a huge living room, separate kitchen, three bedrooms, two bathrooms, as well as a huge balcony and a veranda, which occupy 61 sq.m. One bedroom has a shower unit.
All rooms have a quality modern renovation:
Floors are covered with tiles and laminate;
ceilings are painted, with multi-level design;
walls are painted.
The apartment is vastly equipped with lighting fixtures, with many spotlights. All rooms are decorated with appropriate textiles: curtains, bedding and household appliances (2 air conditioners, flat-screen TV, all kitchen appliances). The bathrooms are equipped with high-quality plumbing of European manufacturers. Also, the apartment is fully furnished: wardrobes, cabinets, large folding sofa, double bed, and 2 single beds, tables, chairs, armchairs. The balcony is equipped with a cozy place to relax.
This apartment is suitable for both living and renting out for a short, mid- or long term. The optimal number of people that the apartment is capable of accommodating is 6-8 persons.
Why we recommend buying?
The apartment which we introduced, can be an attractive investment option and a good place for personal residence. Some of the positive aspects are as follows:
Tbilisi is the most visited city in Georgia;
location in a quiet comfortable district surrounded with parks;
the purchase entitles you to a residence permit in Georgia;
profitability can start from $ 60 per day ;
the apartment is completely ready for living immediately after purchase;
beautiful view of the park, city, mountains.
If you are interested in real estate and the apartment in Tbilisi, write to us by e – mail at: [email protected] and we will help you with the purchase or we will pick up other real estate in Georgia.
How long does it take to buy an apartment on Chavchavadze Ave in Tbilisi?
Registration of the transaction will take no more than 1 business day.
To conclude an agreement, it is necessary for a foreigner to have a foreign passport.
To conclude an agreement, it is necessary for a foreigner to have a foreign passport.
How long will it take to obtain a residence permit of Georgia after buying an apartment?
It will be possible to obtain a temporary residence permit in Georgia in 10 calendar days. The cost of registration based on the accelerated procedure is – 410 GEL.
Tags:
#Real estate Tbilisi
You are welcome to review other interesting articles on Georgiawealth.info: