Renting a luxury apartment with a large terrace in Tbilisi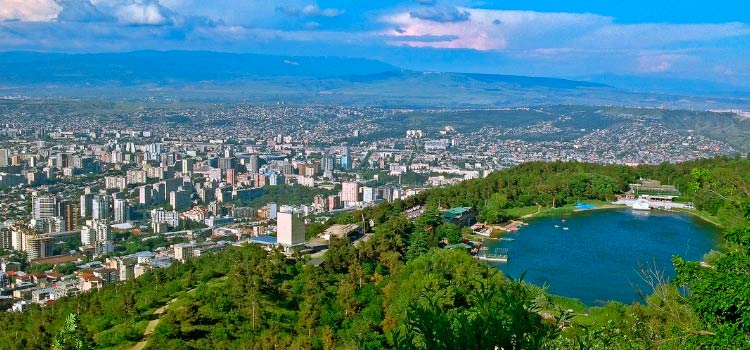 Apartment rental services in Tbilisi are very popular among foreign visitors. The inflow of travelers to Georgia is constantly growing, and a good portion of foreigners prefers staying in a rented apartment rather than in a hotel or a hostel. Both recreational tourists and businesspersons will be interested is renting a comfortable apartment in Tbilisi. In addition, those investors who are planning to buy a piece of real estate in Georgia, or want to have a business company registered in this country, will be interested to learn more about the apartment that we offer for rent.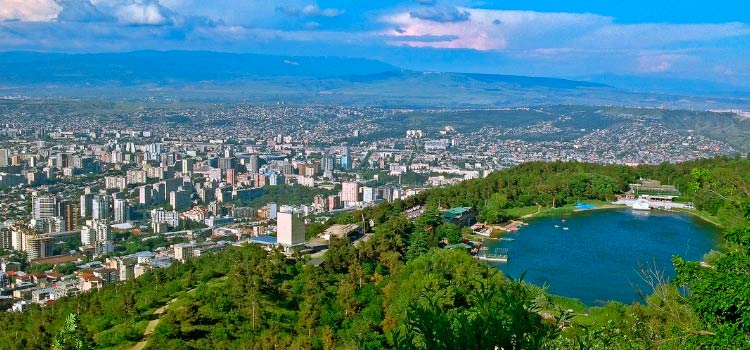 Tbilisi: the capital of an ancient Caucasian state
Tbilisi is the largest city in Georgia with the population of about 1.1 million people. This city is located at the crossroads where many trade routes meet, and that is why Tbilisi has been an important transit center for centuries.
Tbilisi is first mentioned in written sources in IV A.D. The city was built around hot sulfurous springs that were accidently discovered by Iberian king Vakhtang Gorgasali. The king was hunting pheasants in that area and he was amazed to find that when one bird fell in the spring it cooked in the hot water. Very soon, the king and his men also understood the medicinal effects that bathing in the hot springs had. Thus, Gorgasali ordered to build saunas on the springs, and with time the place became more and more popular with local people. New buildings were built in the area and eventually it turned into a city that became the capital of Iberian kingdom in VI A.D.
Archeological excavations on the territory of modern Tbilisi discovered remnants of even more ancient settlements, dated back to far older times that those of king Gorgasali. For example, in a historic district of Tbilisi archeologists found thermal saunas built in I-II B.C.
Actually, the saunas erected on the hot springs gave Tbilisi its name: in Georgian this word simply means 'warm spring'. Today one can still find a sauna complex at the same place. The district is called Abanotubani and it is often referred to as the main tourist attraction in Tbilisi.
Renting an apartment in Tbilisi
There is a high demand for rental apartments in Tbilisi. The capital of Georgia is usually the city visitors to the country come through. Tbilisi international airport is the main air gate to Georgia, and the majority of foreigners arrive there. In the first quarter of 2019, 300,801 foreign visitors came to Georgia through Tbilisi airport (which is 22.6% of the total number of visitors to the country).
In 2018 foreigners spent more than US$ 2.9 billion in Georgia. 2019 shows positive dynamics too: in the first quarter tourists spent US$ 333.7 million which is 4.8% than during the same period last year.
Why exactly should a visitor to Georgia want to rent an apartment in Tbilisi? There are a number of compelling reasons to do so:
Tbilisi is the best-developed city in Georgia in respect to its social infrastructure. It has everything required for a comfortable life: there are plenty of shops, trade centers, cafes, restaurants, and so on. Transportation between city districts is reliable, and there is also a subway in Tbilisi;
This city is the country's business center as well. Headquarters and representative offices of a large number of Georgian and international companies are located here. Besides, there is a Free Industrial Zone inside the city, at 264 Omar Khizanishvili Street. Companies registered in Tbilisi Free Industrial Zone (FIZ) receive massive benefits, tax exemption being the main one. Resident companies do not have to pay any taxes on the condition that they sell their produce abroad (not to Georgia). Large-scale international companies especially benefit from being registered in Tbilisi FIZ as they substantially economize on taxes;
Learn more about tax and other benefits you can acquire by registering a business company in Tbilisi FIZ.
Reaching other regions of the country is easy from Tbilisi. Motor- and railroads link Tbilisi with all other Georgian cities;
Tbilisi has the largest number of apartments in newly built houses on sale. This should be especially interesting for investors who want to put their money into Georgian real estate. Residential accommodations are in high demand in Tbilisi all the year round, not only in high season. This provides for a faster return on investment in comparison to that in resort cities.
Who may be interested in renting a luxurious apartment in Tbilisi
Foreign visitors to Georgia often rent apartments or detached houses in Tbilisi, be it for a short or a long term. The number of foreigners coming to Georgia is growing all the time, and finding a nice apartment to rent in a good district can be problematic. Therefore, this is a good idea to plan your visit to this country in advance.
Who may be interested in renting an apartment in Tbilisi? The following categories of visitors usually look for a rental apartment in this city:
Tourist who come to Georgia in order to enjoy the marvelous views and historical sites, as well as try hot local dishes and wonderful wines;
Business people who want a comfortable place to stay in a nice part in the city while they do business in Georgia;
Investors who want to purchase some real estate in this country. They also have to have a comfortable residence because finding the right piece of property to buy takes some time.
Generally speaking, anyone who intends to visit Georgia should be interested in renting an apartment there. At the same time, businesspersons planning to have a trade or production company registered in this country, or establish an IT business there, or register a legal entity in Tbilisi Free Industrial zone, are probably the ones who will be interested in renting a luxury apartment in an elite district most of all. Such business activities are increasingly popular with foreign business people, especially those who live in the neighboring countries.
If you are interested in doing any kind of business in Georgia, we recommend that you should check the list of basic services that our company provides in this country.
Renting a luxury apartment in an elite Tbilisi district
Vake is considered an elite district of the city. A lot of celebrities and well-off people reside there. The district borders Vera area in the east and Saburtalo area in the north. Vake is a relatively young district erected in the 1950s. There are a lot of grand buildings, embassies, consulates, and company headquarters in the district. The tourist will not find historical sites there but Vake is famous for its parks, called Vake Park and Mziuri Park, and also for the Turtle Lake and the ethnographic museum.
The main street in Vake is called Chavchavadze Avenue, and many embassies, state agencies and trade centers are located along its sides.
We invite you to consider renting a comfortable apartment located in Abashidze Street. This street runs from the Round Garden green area straight into Vake Park. A large number of various stores, bank offices, cafes and restaurants are located along Abashidze Street. The district also has a large cinema, a hospital, Turkish embassy, David Agmashenebeli University, Ilya University, and building 1 of Tbilisi State University.
The two-bedroom apartment that we offer for rent in on the third floor of a 14-story building. Its total area is 329 square meters (393 sq. yards). In addition to two bedrooms there are three bathrooms and a large living room (60 sq. meters or 72 sq. yards) with a huge terrace (180 sq. meters or 215 sq. yards) All the interiors are newly decorated, all the furniture is new and the home appliances are in working order. There is also central heating, cold, hot water supply, and Internet connection in the apartment. One particular feature that this apartment has can be especially interesting for some clients: its interior design allows using some of its areas as office areas. Thus, this apartment can be used for living and working simultaneously.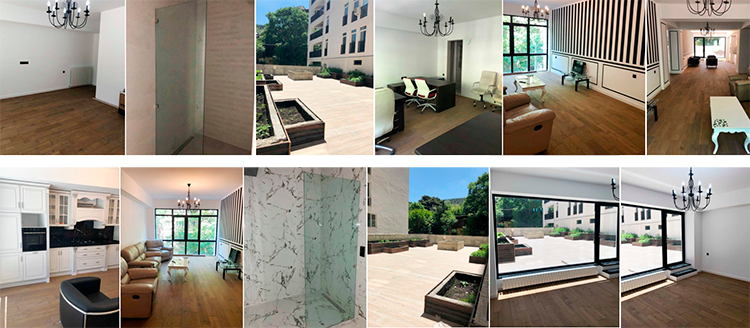 The rent for this luxury apartment with a huge terrace in an elite district is 8,340 laris (around US$ 3000) per month.
If you want to rent this comfortable apartment, please write to us to info@offshore-pro.info. We will assist you in making the rent agreement, and also offer other services necessary for doing business in Georgia, or purchasing property in this country, or registering a trademark, or dealing with taxes, and so on.
Tags:
#Apartment in Tbilisi
#Real estate in Georgia
You are welcome to review other interesting articles on Georgiawealth.info: