Comfortable office in Tbilisi downtown in new building Axis Palace 2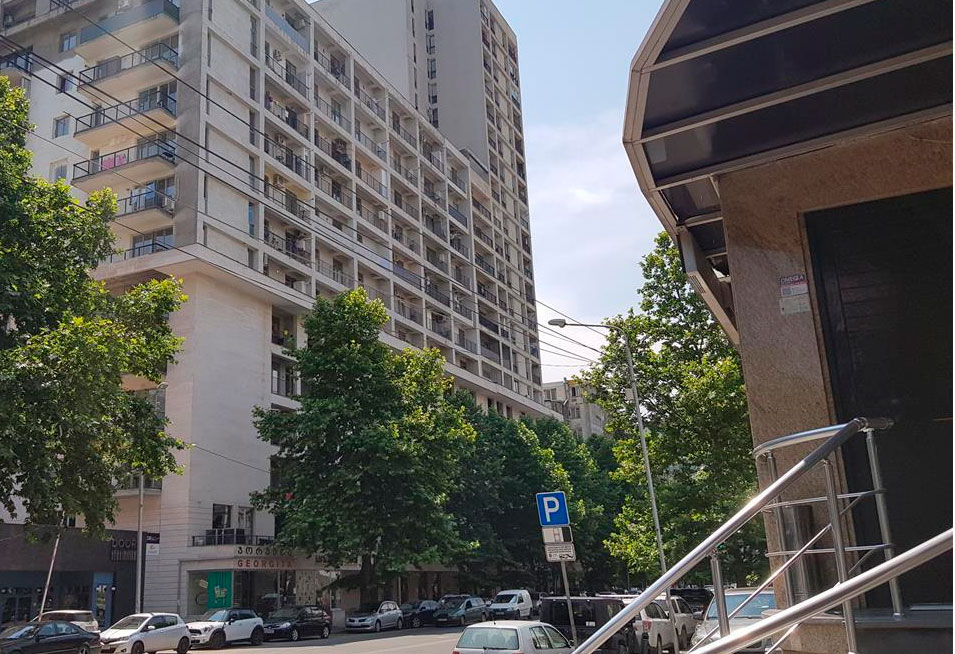 A comfortable office in the center of Tbilisi, which is located on the second floor of the new Axis Palace 2 complex, is a lucrative solution of investment in asset that can be profitably used both for personal purposes – for developing your own business, and for leasing. Its purchase will allow the owner not only to expand his own business, but also to obtain a highly profitable real estate object to generate stable cash flows by renting.
Where is the comfortable office in the center of Tbilisi located?
The commercial object for sale is located on Tsintsadze Street, which is in Saburtalo district, practically bordering with Vake. Next to the new building you will find one of the most hectic city highways – Pekini Avenue (700 m). In addition, one of the largest Tbilisi shopping centers – Mega Mall is in the vicinity of the new building; here you will also find a Carrefour supermarket and another one across the street. With its busy streets and high concentration of public attractions, the area is characterized by high traffic of people, which can be particularly attractive factor for businessmen who want to use the office for a store or a company providing services to the public.
In walking distance from the Axis Palace 2 there are 35 restaurants ( Wendy ' s, Dadiani, Retro , Lazatti ), Socar gas filling station, 8000 Vintages – very popular and one of the best wine bars, the capital of Georgia (7th in ranking among more than 1000 restaurants in Tbilisi on Tripadvisor), pharmacies, Dehage supermarket, a toy store, a medical center, children's entertainment center, a small park, Bank of Georgia premium branch, and many other social infrastructure facilities.
Near the new building there is a large parking lot, as well as several public transport stops. The transport infrastructure is very well developed here, so it will be possible to get to the center of Tbilisi or to another area of ​​the city through Pekini Avenue in just 10-15 minutes. Axis Palace 2 is almost equidistant (1.5 km) from the Medical University (north) and Technical University (east) metro stations.
Distance to the Shota Rustaveli airport is 21 km (30 minutes by car), to the railway station – 4 km (10 minutes by car), to the Ortachala bus station – 8.7 km (16 minutes by car).
See more real estate objects in Georgia on our portal
Comfortable office in the center of Tbilisi: characteristics and photos
The area of ​​the office for sale is 65 sq.m which is sufficient to accommodate a small store or the premises of the company's administrative department. The commercial facility is located on the second floor of Axis Palace 2 and consists of 2 rooms, a private bathroom and a small kitchen.
The office has been renovated, with lighting fixtures, a fire alarm, two air conditioners, a heating system installed, a cozy dining corner (several cabinets and a washbasin). Among numerous advantages, the availability of separate entrance to the office should be particularly noted.
The location of the office is suitable for use as a store, dentistry, law or notary office, real estate agency, or for other services provided to the population. Or, alternatively, it can serve as a premise to accommodate one of the company's departments.
What are the advantages of having an office in the center of Tbilisi at Axis Palace 2
This commercial facility is attractive in terms of:
location – proximity to city center and busy streets;
all repairs and communications finished;
a separate entrance ;
a large parking area;
affordable cost – 1,200 USD per 1 sq.m. for office space in the capital of Georgia.
The above reasons should be considered by investors wishing to start their own business in Georgia, who are looking for an office in a fairly busy place with good transport links.
If you are interested in making the purchase of the office in the center of Tbilisi in Axis Palace 2 please contact us by email [email protected] or online chat and we will be happy to respond to all questions which you may have.
Does the purchase of an office in the center of Tbilisi qualify for a Georgian residence permit?
No, to apply for a residence permit in Georgia, you need to invest in residential real estate over 100,000 USD.
Can I buy an office in the center of Tbilisi remotely?
Yes, buying real estate in Georgia remotely is a standard procedure and is carried out with the help of an authorized representative.
How long does it take to buy an office in Tbilisi?
Registration of the purchase of commercial objects, as well as residential ones, in the Public Register of Georgia under an accelerated procedure takes no more than 1 business day.
Tags:
#Tbilisi
You are welcome to review other interesting articles on Georgiawealth.info: