Apartments in Tbilisi within walking distance from the city center + Georgia residence permit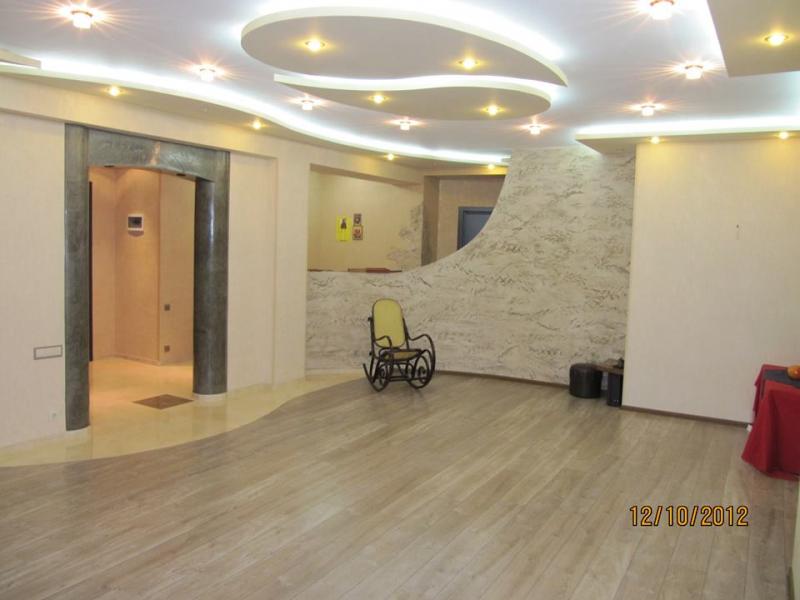 If you are looking for an ideal location for a long-term residence or temporary short-term stay, these spacious apartments in Tbilisi, 2 km from the city center, which are located in the best area for living – in Saburtalo district, will be the best solution for you. Furthermore, due to convenient location, ownership of this property opens up good prospects for earning rental income. Practically located in downtown part of the city, and in relative proximity to the historical center, with very good infrastructure, the purchase of apartments in Tbilisi is indisputably a profitable investment.
Where exactly is the apartment located in Tbilisi?
This apartment in Tbilisi, which we are presenting to your attention is in Saburtalo district, more precisely – on Chikovani st., practically neighboring to Vake district. The region is characterized by a fairly high concentration of various social infrastructure facilities.
Within walking distance from the house you will find: Tbilisi Zoo, Children's Infectious Diseases Hospital, buildings of the Georgian Technological University, a health center, relatively closely located public schools No. 195 (750 m) and No. 61 (600 m), McDonald's (450 m), Sports Complex (500 m), the Tbilisi Circus (1 km), the Estonian Embassy (1 km), public school No. 162. There are also grocery stores and non-food stores and cafes nearby.
Near the house where the park of Heroes is located, passes Merab Kostava street along which you can reach to the center of Tbilisi in 5 minutes. There is also a public transport stop nearby, running 17 different routes, and another 600 meters to the north there is a metro station – "Technical University".
Attention!!! The area where the apartments in Tbilisi are located has a well-developed social and transport infrastructure. Rustaveli Avenue, i.e. the city center is within 2 km from the building; the historical center of Tbilisi is a little further – at a distance of 3.6 km.
Explore more real estate objects in Georgia on our portal.
Parameters and photos of the apartments in Tbilisi
The apartment in Tbilisi offered for sale is located on the 11th floor of a 16-storey building, which, incidentally, opens a beautiful panoramic view of the city from the windows, which is a constant benefit enjoyable during the day, as well as nighttime, when the city lights are on.
Apartment offered for sale is quite spacious, with an area of 170 square meters, and includes:
3 bedrooms;
2 bathrooms;
studio kitchen combined with living room;
A balcony.
All rooms have been renovated, but they are only partially furnished: the kitchen is furnished, also there is a double bed, tables, chairs, wardrobes, armchairs, curtains, all communications (heating, water, gas, electricity, cable, internet).
The large area of ​​the apartments and their technical capacity makes it possible to comfortably accommodate a company of 8 people. However, the new owner will need to add furniture to the apartment.
What are the benefits for the owner of this apartment in Tbilisi on Chikovani st. ?
Buying this apartment is inarguably justified in terms of:
location – a respectable area that is relatively close to the city center;
complete finishing and repair – the new owner will not have to make repairs from scratch, thus saving considerable time and resources; he will only have to buy some of the furniture,
cost – 1 square meters of this apartment near the center of Tbilisi costs only USD 900;
a big plus for the high-rise location – the windows of the apartments offer a beautiful view of the capital of Georgia;
on the Booking.com portal renting a property with an area of ​​120 square meters in this area brings from 60 USD per day, and the above apartments are larger, which means they have greater income potential;
the purchase gives the right to obtain a residence permit in Georgia, which will allow a foreigner to raise his/her status in the country and simplify access to a number of services.
Also, apartments in Tbilisi may be of interest to foreigners who are invited by the Georgian government to the country, provided that they stay here for at least 6 months. Also, these apartments in a favorable location will be of interest to foreigners who have come to Georgia for business purposes, and starting from August, air communication with Georgia from Munich, Paris and Riga will be restored, which will inevitably "stir up" the country's real estate market.
Of course, 2020 has not been the best year for tourism, but it is anticipated that the market will adapt to new conditions and international tourism will restore to normal. Therefore, many experts predict that in 2021 Georgia's real estate market will recover to the level of 2019, and in 2022 – will once again boost. So, if you want to invest in a Georgian property, please contact us by email [email protected] or online chat and we will help you make a profitable purchase.
How long does it take to obtain a residence permit in Georgia?
It will be possible to obtain a temporary residence permit in Georgia using an accelerated procedure in 10 working days, or go for the standard options – in 20 or 30 working days.
What do you need to execute a real estate sale transaction in Tbilisi?
For a foreigner to buy an apartment in Tbilisi, it is enough to have a passport. Transactions through an authorized representative are also practiced, in which case you will need to have a notarized power of attorney.
How is the payment for the purchase of real estate in Tbilisi usually made?
Usually, payment for real estate is made by bank transfer to the account indicated by the seller. Georgian banks use the international IBAN account format and have a fairly wide network of correspondents around the world, so transactions are carried out fairly fast.
Tags:
#Apartments
#Tbilisi
You are welcome to review other interesting articles on Georgiawealth.info: