Cryptocurrency in Georgia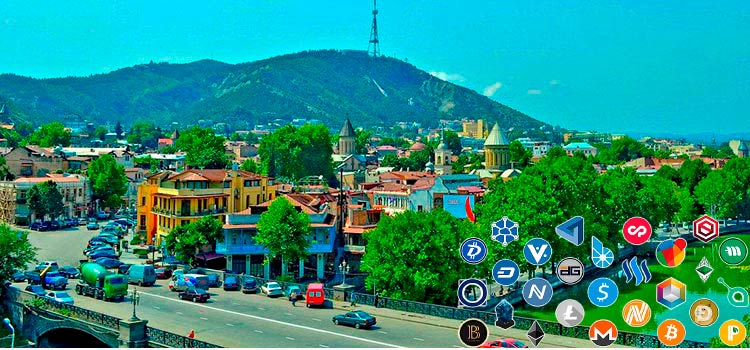 Although Georgia is not currently leading among countries with developed IT, it still belongs to leaders in cryptocurrency mining. According to the published rating of the Global Cryptocurrency Benchmarking Study, in 2017 Georgia took the 2nd place worldwide (following China) by the scope of mining. As of 2019, cryptocurrency mining in the country had not lost its popularity. This is verified by the ongoing international thematic conferences held in its territory, as well as by the growing number of ATMs for exchange and purchase of the cryptocurrency.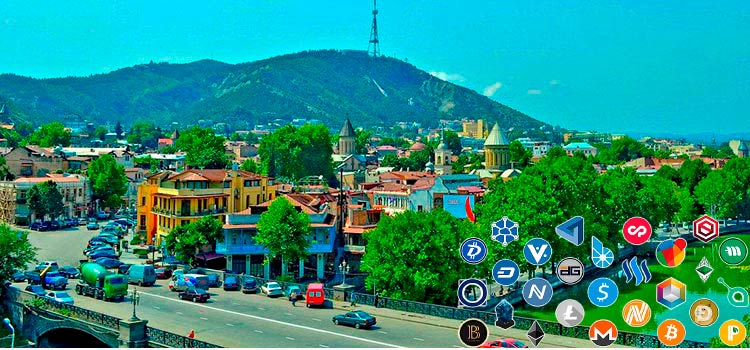 What are blockchain and bitcoin?
Blockchain is a new technology of keeping data that presumes distribution of information over interrelated blocks, which form a consecutive chain. This chain using miners is constantly growing. Every computer participating in mining is a separate block of this chain, and every computer stores a copy of the blockchain.
Blocks form a chain in the blockchain in a linear sequential-chronological order. These chains are stored on multiple unrelated computers over the world. A miner who turns on his computer automatically joins the network where the copy of his blockchain is uploaded automatically.
Despite many people relate the blockchain with the cryptocurrency, it can also be used to store and distribute other information. For example, governments of Sweden, UAE and Ukraine plan to use the blockchain technology for storing data from the land register.
Bitcoin is the world's first cryptocurrency that was established in January 2009. A peculiarity of this virtual currency is that it is totally de-centralized. No central bank in the world may control the bitcoin or regulate its issuance. Bitcoins are generated by miners who create new blocks in the blockchain. To obtain the cryptocurrency they need special equipment, ASIC miners. it should be noted that previously for mining the bitcoin a home PC with a powerful videocard was enough.
Because of the need to increase powers for mining the virtual currency, many people interested in profit began to rent or purchase the entire premises where they place the equipment for mining cryptocurrency. This is how "mining farms" began to appear. Profit from this activity was clear; people purchased special equipment and started to generate the cryptocurrency. This business required practically zero expenses, except costs of electric energy – these are the main expenditures of mining farms.
And the most important of all, the benefit of the bitcoin. When it had just appeared, its cost was very low. For instance, in 2010 in the USA only two pizzas was bought for 10 000 bitcoins. Nevertheless, in the course of time the interest to the cryptocurrency was steadily growing, just as its rate. In 2013 the maximum cost of the bitcoin reached the mark of almost 1 000 dollars. And on 17 December 2017, the rate of the digital currency broke the record – its cost reached 19 666 dollars. As of 23 June 2019, the cost of the 1 bitcoin makes 10 694 US dollars.
Meanwhile, the cryptocurrency has a serious drawback – high volatility of the rate. It is constantly changing, and can rapidly grow or similarly drop. Still, this does not reduce the number of people who wish to start mining the digital currency.
The growing popularity of the cryptocurrency resulted in another trend – its new varieties began to spread widely. As of 2019, there are more than 800 different digital currencies on the market, among which three most popular are pointed out: Bitcoin, Ethereum, and Ripple.
Learn more about achieving the maximum effectiveness of an international business and how to register a company in the Tbilisi Free industrial zone.
The cryptocurrency boom in Georgia
In Georgia, extraction or mining of the cryptocurrency are hugely popular. Many proprietors and ordinary people buy bulk amounts of the equipment and organize full-scale farms for mining the digital currency. At the end of 2017, it reached the point where the Central Bank of Georgia made an official statement focusing public attention on the fact that the cryptocurrency is not an official payment means in the country and is neither regulated by legislative acts.
The growing popularity of mining in Georgia can be easily explained – the electric energy is cheap here. Thus, the cost of electricity for those who utilizes more than 300 kW*h is: for citizens of Tbilisi – 23,0395 tetri (8,3 cents), for residents of other regions – 22,733 tetri (8,2 cents).
Such favorable conditions for development of crypto business could not go unnoticed by foreign companies that want to mine the digital currency on a commercial scale. In that way, in 2014 the Dutch company BitFury built the first data center in Gori with capacity 20 MW, and in 2017 built the second center already in Tbilisi and with capacity 40 MW. Investments in these projects made around 30 million US dollars.
After launch of these projects Georgia joined the list of leader countries in industrial mining, while the company BitFury controlled up to 15% of all the bitcoins produced worldwide.
It should be said that BitFury obtained huge benefits from the government of Georgia, including purchase of a land area 18 hectares for construction of a data center in Tbilisi, which cost it a symbolic 1 lari. In next few months, this territory obtained the status of Tbilisi Free industrial zone, which provided the following advantages to companies:
absence of taxation – companies registered in FIZ do not pay taxes to the state budget;
no need in reporting;
no obligation to hire employees;
price of electric energy became even cheaper (for 18%), as in the territory of FIZ goods and services are VAT-free;
absence of currency limitations and currency control.
Therefore, the company BitFury obtained extra beneficiary conditions for industrial mining of the cryptocurrency.
The Dutch company was taken as an example by many ordinary Georgians, sole proprietors, and non-residents. Many people began to establish mining farms in Free industrial zones in Tbilisi, Kutaisi, Poti, Kutaisi Hualing, and in high-mountain regions of the country, where the cost of electric energy is lower.
Nevertheless, it should be mentioned that in 2018 under public impact the company BitFury had sold its data center in Tbilisi to the Chinese company Chong Sing Holding (Hong Kong). Meanwhile, people still want to mine the cryptocurrency in Georgia.
The growing popularity of digital currency mining in Georgia are promoted by the following factors:
high unemployment level – 12,7% as of 2018;
low cost of electric energy;
possibility of registration of a Georgian entity with a loyal taxation regime;
simple registration of an entity and liberal legislation in the business sector.
This all attracts foreign investors who wish to start mining the cryptocurrency to Georgia, because it created the optimum conditions for establishing mining farms.
Learn more about benefits of registration of company in Georgia from Moscow.
Location of cryptomats in Georgia
Popularity of the cryptocurrency in Georgia remains steady. Thus, in 2017 a transaction on sale of a Mercedes car for 2 bitcoin was fixed in Georgia. Frequently, listings of real estate sold for the cryptocurrency can be found.
Since 2018 in Georgia ATMs for exchange and purchase of digital currencies are being actively installed. The first cryptomats was installed in the restaurant "New York Burger" in the capital in March 2018, the second – on the Shalva Dadiani street. Currently 13 cryptomats are functioning in Georgia, of which: 10 – in Tbilisi, 2 – in Batumi, and 1 – in Kutaisi.
Addresses of cryptomats in Tbilisi:
Paliashvili St. 81, shop "Coffee and cigarettes";
Tsereteli Av. 116, mall "Didube";
Kostava St. 76, shop "Fresh Salads";
16 km of David Agmashenebeli Lane, "Tbilisi Mall";
Shota Rustaveli Av. 2/4, mall "Galleria Tbilisi";
International airport Tbilisi;
Hizanishvili St. 16, mall "Gldani";
Vazha Pshavela St. 59, shop "Don Chicho";
Ilya Chavchavadze Av. 37L, mall "Homemart";
Alexandr Tvalchrelidze St. 2, mall "East Point".
Addresses of cryptomats in Batumi:
Tbel-Abuseridze St., "Black Sea Mall";
Baratashvili St. 41, shop "Mobservise".
Address of cryptomat in Kutaisi:
II Tsereteli lane 2а, hotel Bagrati 1003.
In Georgia not only the infrastructure for trading cryptocurrency is being actively developed; in 2016 the government of the country, together with BitFury, began to realize the project on storing in the blockchain the information from the public register of real estate of Georgia. Already since February 2017 all transactions on the Georgian real estate are executed in the blockchain. The government also plans to use this technology for registration of business.
If you want to start mining currency on a commercial scale, you won't find a country better than Georgia. Here all the favorable conditions for mining are provided. By opening a company in Georgia, you will return your investment very soon and will begin to obtain profit. We provide the maximum assistance in the process: registration of a company, organization of a full-scale operation, and opening a corporate account. Please contact us at any time convenient: info@offshore-pro.info.
Tags:
#Companies in Georgia
You are welcome to review other interesting articles on Georgiawealth.info: