Turnkey business for sale: luxury hotel in Tbilisi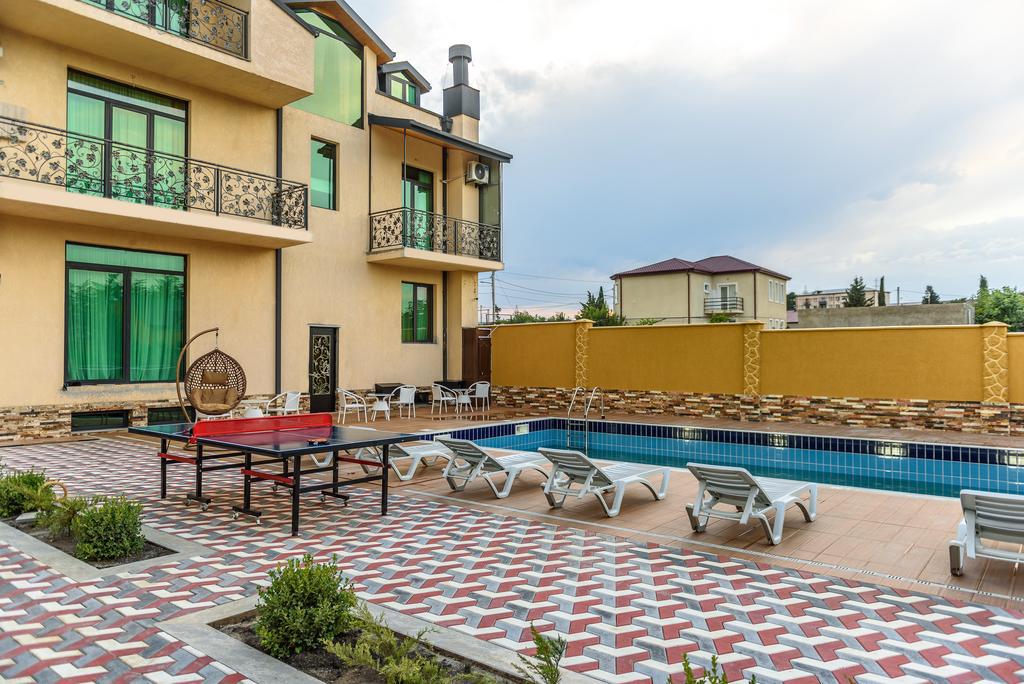 Buying a luxury hotel in Tbilisi is a worthy investment, indeed. The capital of Georgia is an exceedingly popular holiday destination and if it were not for the coronavirus pandemic, the country would undoubtedly hit another tourist record in 2020. However, the world is gradually adapting to the new business environment, and the tourism industry will soon regain its lost ground. The presence of a luxury hotel with a good reputation in the most popular city in Georgia will undoubtedly contribute to the welfare of its owner.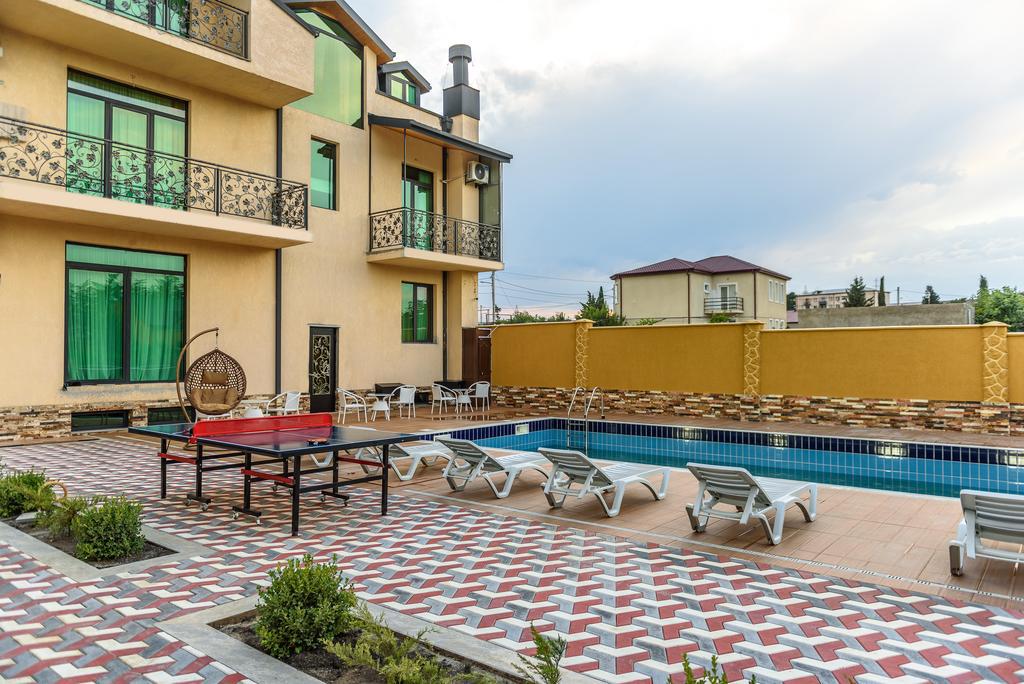 Where is the luxury hotel in Tbilisi located?
The hotel for sale is located in a quiet and comfortable area in the north-east of Tbilisi, namely – in the Nadzaladevi district, at a very close distance to the Tbilisi Sea-Reservoir (1.7 km), where there is a water park, an amusement park, a new Tbilisi zoo, a yacht club, numerous restaurants and cafes.
Within walking distance from the hotel you will find KIA car store (200 m), Levan Cinema (500 m), Sea Paradise (400 m) and Aremare (800 m) restaurants, College of Business and Technology (800 m).
It should be noted that in the area where the luxurious hotel in Tbilisi is located, there are few social infrastructure facilities and one-story residential development prevails. However, Nikoloz Khudadov Street is nearby (100 m), along which you can get to any district of Tbilisi.
The distance from the hotel to the center of Tbilisi is about 7 km. It is in the center of the city that the bulk of entertainment attractions and many gourmet interesting restaurants of Georgian cuisine and entertainment venues are located to suit different tastes. For those who are interested in the sights of the Georgian capital, it is recommended to definitely visit Dzveli Tbilisi (9.5 km) with its sulfur baths, Narikala fortress , Mtatsminda park, funiculars, and, of course, the atmosphere of the old city with narrow streets, unusual architecture and interesting restaurants.
Find out more about other equally interesting investment projects and real estate in Georgia.
How long does it take to get to the luxury hotel in Tbilisi?
The distance from the hotel to the main transport hubs of the Georgian capital:
Central railway station – 5.5 km or 15 min. by car;
Ortochala bus station – 9.3 km or 20 min. by car;
Shota Rustaveli International Airport – 18 km or 30 min. by car.
Luxury hotel in Tbilisi: parameters and photos
This 3-storey luxury hotel in Tbilisi, which is offered for sale, covers an area of ​​550 sq.m. and is located on a land plot of 1 238 sq.m . The hotel has:
14 rooms;
9 bedrooms;
12 bathrooms (all rooms with bathrooms);
free parking lot for 10 cars;
in the backyard there is a 5 × 10 swimming pool up to 1.5 m deep, equipped with a filtration system, heating and a terrace (45 sq.m.) with umbrellas and sun loungers;
children's playground;
video surveillance system (15 cameras);
a separate covered building (60 sq.m.), with a large fireplace and a bathroom (there is hot water);
a restaurant (60 sq.m.) and a kitchen (30 sq.m.).
Also, you will find a restaurant (offering Georgian and European cuisine), a bar, a 24-hour reception, a common lounge area, a currency exchange. All rooms are equipped with air conditioning, flat-screen TVs, microwaves, coffee machines, hair dryers, wardrobes and other accessories and household appliances that make the hotel stay cozy and comfortable.
The following services are available for tourists:
free Wi-Fi;
Free toiletries and accessories;
breakfast buffet or à la carte;
billiards, table tennis;
car rental;
fax, photocopy .
In general, there is absolutely everything for a comfortable stay. And additional comfort is ensured by the hospitable and friendly staff, who speaks English and Russian.
Luxury hotel in Tbilisi: why you should buy
There are many reasons for buying a hotel. Let us take a closer look at some of the obvious benefits:
Promoted brand with complimentary reviews
First of all, it has to be noted that this is more than just a building on sale, but a completely set up and promoted business. The hotel in Tbilisi has its own account on the Booking.com portal with very good reviews:
staff – 9.7 points;
location – 8.6 points;
cleanliness – 9.7 points;
price / quality ratio – 9.6 points;
comfort – 9.5 points;
convenience – 9.5 points;
free Wi-Fi – 10 points .
Overall hotel's rating on the portal is 9.4 "excellent". The low rating for the location is accounted for by the remoteness of the hotel from the city center (7 km), but this is not a problem at all, as you can rent a car here.
Attention!!! A luxury hotel in Tbilisi has earned a rating from the Booking.com portal as "One of the best options we have selected in the city of Tbilisi." And this kind of review means a lot in terms of the hotel business.
Tourists from different countries
Most reviews were left by tourists from Russia, Israel, and Armenia. But there are also reviews from travelers from the UK, Germany, Denmark, the Netherlands, Estonia, all of them – positive, which indicates the high quality of service and the desire to leave a good impression.
Revenue potential
Hotel rooms:
Double room with 1 bed and a balcony (18 sq.m.) – USD 42 per day;
Room with a queen – size bed and a balcony (16 sq.m.) – USD 49 per day;
2-bed room with 2 separate beds and a view of the pool (16 sq.m.) – USD 49 per day;
Room with king – size bed (20 sq.m.) – USD 49;
Room with a king – size bed and a balcony (18 sq.m.) – USD 49.
Standard room with king – size bed (18 sq.m.) – USD 49.
Junior suite with pool view (25 sq.m.) – USD 56.
Junior suite with balcony (28 sq.m.) – USD 56.
Suite with king – size bed and pool view (40 sq.m.) – USD 65.
The prices include breakfast.
Thus, when the rooms are fully loaded, the hotel can make a profit of USD 464 per day. If we consider that the hotel will be booked only 50% per year, then the annual revenue will be within – 80,000 USD.
Considering that the size of investments in the purchase of a hotel in dollar terms is 780,000 USD , then the return on investment with net profit for the year at the level of 40,000 USD (and you can earn even more) is from 5.1%. This is much higher RoI than interest on deposits; especially given the fact that the conditions of deposit guarantee funds in many countries do not apply to a deposit in the amount as high as USD 780,000.
Eligibility to a residence permit in Georgia
Investments in the amount of 300 000 USD entitle the property owner to apply for residence permit of Georgia for 5 years, followed by an option to obtain full-scale Georgian citizenship.
The advantage of a residence permit is particularly, the simplified access for foreigners to a number of services:
it is much easier to open a corporate account for your company;
You can use the electronic civil services portal;
Notary services can be used via Skype.
As you can see, a luxury hotel in Tbilisi is a good investment, with numerous great prospects and significant potential for increased welfare of its owner; furthermore it also opens up many prospects for doing business in Georgia. Therefore, if you are eager to buy a completely ready-made good business in Tbilisi, write to us [email protected] and we will help you make a purchase on favorable terms.
How to buy a luxury hotel in Tbilisi from remotely?
It is enough to write to us by e-mail and our consultant will contact you to discuss the terms of the transaction.
How long does it take to buy a hotel in Tbilisi?
The conclusion of the contract and the entry of information about the new owner into the Public Register takes 1 day. However, if the purchase is to be carried out remotely, it is necessary to prepare and send a notarized power of attorney to the representative. In this case, everything depends on the speed of the postal service.
What documents are required from a foreigner to purchase a hotel in Tbilisi?
To prepare a contract of sale, you must provide a foreign passport.
Tags:
#Business
#Georgia
#Tbilisi
You are welcome to review other interesting articles on Georgiawealth.info: