Purchase of real estate in Georgia: premium apartments in Batumi Riviera residential complex with the right to a residence permit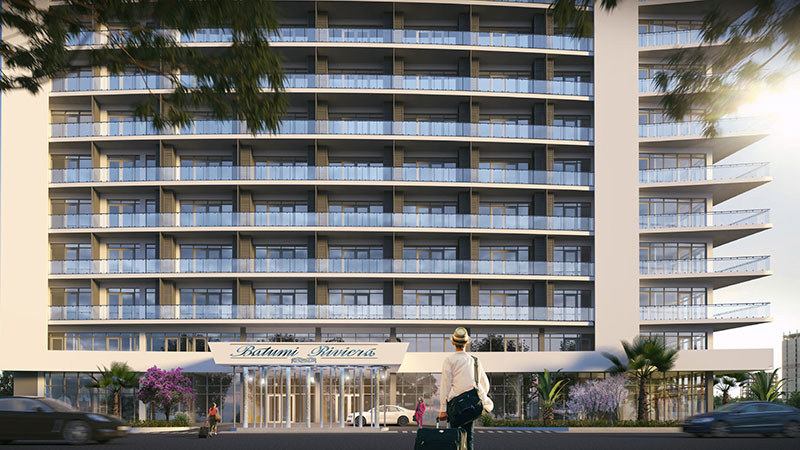 А premium residential complex Batumi Riviera is under construction оn Noviy (New) Boulevard, at a distance of only 400 meters from the sea. This is a unique project that is attractive with its design and rich infrastructure. After the completion of construction (deployment is scheduled for the 2nd quarter of 2021), the apartments in this complex will not only rise in price but will also provide an opportunity to bring stable income of approximately 10% per annum in foreign currency. Therefore, if you want to profitably invest your money, we suggest you consider buying property in Batumi Riviera residential complex in Batumi.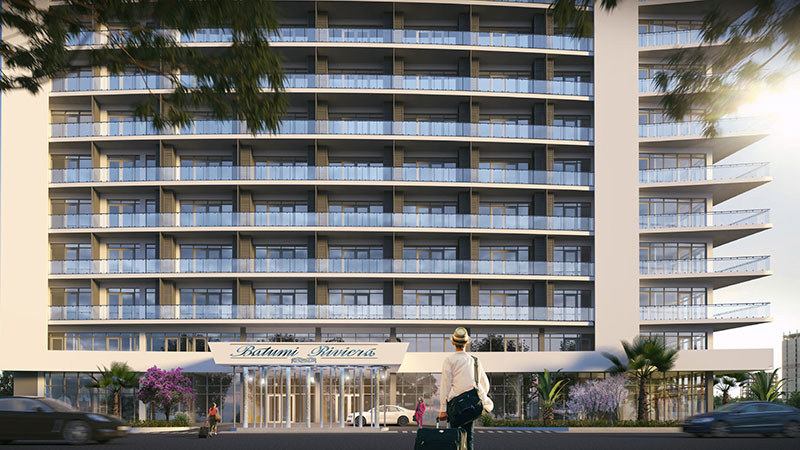 Reasons for buying property in Batumi in 2020
Becoming a homeowner in Batumi makes sense for many reasons. But the most important one among them is affordable prices for the property, which can prove to be profitable investment of your resources, rather than a burden. Demand for rental housing services in the city is growing steadily under the influence of the following factors:
increase in tourist flow – in 2019, more than 9.3 million foreigners visited Georgia, including 2 million visitors to Adjara, which is 3.7% more than the same indicator in 2018. It should be noted that spending holidays in Batumi and the region is increasingly becoming attractive for tourists beyond the list of neighboring countries. For example, last year, the flow of tourists from the Baltic states and Germany significantly increased;
Batumi is the most developed resort city of Georgia on the Black Sea – there is entertainment for every taste and budget: restaurants, cafes, casinos, various tours, discos. It should be noted that in the coming years the government plans to deploy a large gambling center in the region, outside the city boundaries;
With its mild climate – more than 280 sunny days a year, warm seas, beautiful nature and Georgian hospitality, vacation in Batumi is rightfully a wonderful and unforgettable experience;
Increasing urbanization: people from other regions of Georgia move to live in Batumi, because here they can hope for a higher standard of living, as well as more opportunities to find a higher-paying job. Over the past few years, the city's population has grown, while the statistics across the country are reversed.
Thus, the demand for real estate rental services in Batumi is steadily increasing due to the growth of tourist flow and urbanization. As a result, it becomes profitable to engage in rental business here. The yield on rental housing in Batumi exceeds 10% per annum, and this is much more than interest rates offered by banks. Plus, you can also earn on the difference in the purchase price – the sale of real estate. For example, if you buy a new apartment in a building in Batumi at the construction stage, it will cost 20% cheaper.
Some other factors in favor of purchasing real estate in Georgia:
speed and simplicity of registration of ownership of property – a certificate can be obtained in 1 day, and all you need to have available with you is a foreign passport to conclude an agreement;
no taxation on purchase;
the opportunity to obtain a short-term residence permit in Georgia , on the condition that the value of the object exceeds 100,000 USD.
Acquaintance with Batumi Riviera residential complex: elite real estate in Georgia
The Batumi Riviera residential complex is a rather ambitious project, which is being carried out by Hochbau Development in Batumi. The construction of the residential complex is carried out on Noviy Boulevard, near the Seaside Park and the beach. A characteristic feature of the project is its rich infrastructure, well-planned modern design and architecture. Let's get acquainted closer with this housing complex.
Real estate in Batumi: location of Batumi Riviera
The advantage of this modern residential complex is its location. It is being built 5 minutes from the beach and a few meters from Seaside Park. Around the building there are a large number of guest houses and hostels, and already there are hotels constructed closer to the sea. Also, on the beach and along the boulevard you will find a large number of various cafes and bars. There is Metro City shopping and entertainment center nearby, where you will find many boutiques, entertainment centers and casinos.
There will be no issues with access to transport for residents and guests of the RC. There is a public transport stop right next to the new building on Lech and Maria Kaczynski Street, where you can take routes 2a, 10 and 10a. And 2.5 km from Batumi Riviera there is an international airport, a large number of various cafes, restaurants and shops are also concentrated in immediate neighborhood. The railway station is 8 km from the residential complex, and at a distance of 1.8 km there is an exit to the E70 international highway, which takes half an hour to reach the border with Turkey.
Real Estate in Batumi: Features of Batumi Riviera
The Batumi Riviera project is being built based on a monolithic-frame technology in compliance with Georgian and international building standards. It is a 15-story building, with swimming pool, cafe, restaurant, fitness room on the rooftop. The residential quarters will be located from the 2nd to the 12th floor. 22 apartments are planned on each floor: studios, one and two bedroom apartments – 284 in total. The developer has designed 12 different apartment layouts, each of which is named after a Georgian region. The apartments' areas range from 39 to 93 sq.m. The ceiling height is 2.9 m.
Well-known Georgian and international companies are involved in the construction of the residential complex. Particularly, the construction work is carried out by the Anagi Georgian company, which has been operating on the market since 1989, and the Swiss company SGS oversees the performance of works and their certification. Building materials, windows and aluminum systems for the project are supplied by Reynaers Aluminum, Caparol, Guardian Glass and BTS Aliminium, the design of the premises and apartments is being developed by the famous Spanish company – VALCUCINE.
The apartments will be sold in a "white frame" condition, but you may make an arrangement with the developer to have the apartment equipped with Italian furniture from Desiree, a kitchen from Gruppo Euromobil and household appliances from Zanussi.
Infrastructure of Batumi Riviera Residential Complex
This is another of the advantages offered by the complex. The developer has made sure that residents and guests of Batumi Riviera feel at home here, with all necessary amenities provided. The RC provides:
multifunctional roof where you can admire the sea and mountains, swimming in the pool or tasting a cocktail in the cafe. And even a sports hall will be deployed right on the roof;
ground and underground parking for 120 cars;
bicycle parking and charging station for electric cars;
3 high-speed elevators from the KONE company;
backup power generator;
a large green area with a children's and sports ground;
conference room for negotiations and other business events;
storage facility;
round-the-clock concierge service: you can always call a taxi, book a table or tickets using concierge services;
secluded territory with security, equipped with round-the-clock video surveillance.
In addition to the above, the developer plans to create a management company here, which will take on all the procedures associated with renting out apartments. Property owners do not have to spend their time finding tenants, paying utility bills and taxes. All these obligations will be assumed by the management company, which will periodically send you the earned rentals, using the requisites provided by the homeowner.
Learn how to open a bank account in a leading Georgian bank remotely .
The cost of apartments in the Batumi Riviera residential complex starts from 700 USD per 1 sq . m. , But the higher they are placed within the building, the higher the price. It should also be noted that the developer provides a discount in case of 100% down payment.
If you are interested in buying property in Georgia, and in particular in the Batumi Riviera residential complex, send us your contact information at: info@offshore-pro.info. We will promptly get back to you to discuss the terms of the purchase and, if necessary, we will select other real estate that best suits your requirements.
Tags:
#Real Estate Batumi
#Real estate in Georgia
#Resident permit in Georgia
You are welcome to review other interesting articles on Georgiawealth.info: